My dirty OMAD
| filed under: Fasting, OMAD, OBAD, Intermittent Fasting, Fast, Diet, IF
tl;dr: my intermittent fasting golden ticket is a one-meal-a-day framework that doesn't chase making calories or macros. Sometimes my daily calories will be 800 and sometimes 2,000, and that's OK.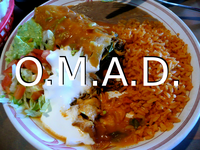 One Meal a Day (OMAD)
It's Working
Both my cardiologist and my primary are pleased with my progress. My most recent labs clear me on diabetes and the values of my other tests are normal.
I will tell you what I have been doing and how I achieved it. I will also admit all of my foibles, trying to be as honest as possible.
Three-In-One
I only eat one meal a day, whether it meets either my macros or my calorie count. It's never perfect—I fail and fall back, and overeat all the time. But, I force myself to track all my mistakes on MyFitnessPal and I always rejigger my Zero IF app to reflect my adapted eating and fasting windows.
If I am going to cheat, I want to cheat transparently!
I sometimes feel like I am three distinct people: my id, who binges and suffers from extreme gluttony; my ego, who generally stays pretty silent; and my superego, who is incessantly trying to steer this bi-articulated bus that is me. So, while my id is being a dick and insisting on eating whole bags of chips and dip, my superego is desperately looking for ways to minimize damage. It would enforce accountability by disallowing my ego to hide behind partial data, which the latter might try to achieve through averting a strict tracking and maintaining of the calorie and fasting logs.
One Meal, That's It
My single meal of the day can be a large and stuffy one, and it may be rich in salads or otherwise. Sometimes, it's just reasonable stuff from a restaurant, at others, it's a carefully prepared nutrition-dense and macros-perfect bespoke meal I would make at home. One eating, period, that's it.
Never Be Chasing Calories
I will never chase calories. Today's one-meal was probably 900 calories. So, today will be a calorie-restricted day. Not intentionally, but it's OK to under-eat one whole day. Tomorrow, it might be 1,500-2,000 calories.
Earlier, I had been a little obsessed with making sure I get up to 1,500 calories a day, but it's not worth it, especially since everyone generally underestimates rather than overestimates calories. So, who knows? And, as I said before in another post, science and medicine, and even hallowed pseudoscience clearly show that it's way healthier, over the course of your life, to miss a few meals than it is to overeat. If quality longevity is what I risk, I am in!
To repeat, most people develop a sort of limiter after eating high protein, low carb for a while, but I don't seem to have a quality seity setting. I don't have a working fullness gauge. So, I need to do it in emulation. That's why I have such short eating windows. I am allowing time to replace fullness.
My Crazy Best Friends
All of my best friends eat like birds. If you're not familiar with this idiom, here's a definition from Weightless Chronicles:
"Usually, eating like a bird means you hunt and peck, but don't actually consume much food. This couldn't be farther from the truth. Birds actually eat A LOT of food given their weight. However, their stomachs are too small to eat like gluttons."
It makes sense when my extremely body-conscious friend Mark barely eats, but at least when he does eat (he's that friend who gets terrible headaches because he'll forget to eat for days), he feasts.
My other friend, Keith, loves to talk of his ribald feasting. He loves to act like an over-indulged King, always suggesting a night of debauchery at Baltimore crab shacks; however, when we get there, he eats like a granny. He doesn't glom, he picks carefully through the food, taking dainty bites and often times not even getting through a normal American portion. Maybe only half. I mean, it's another thing when it comes to drinking, but his natural appetite is a work of art and his body comes to a very natural, a very beneficial, point of seity.
His dad, George, is like that too. Extremely spartan, extremely self-disciplined. I need to ask him if it's intentional—a sort of self-restraint as a bulwark against gluttony—or if it's just a natural thing that he's always enjoyed just as a part of being him. I don't think that it's any type of anorexia or even orthorexia—an unhealthy focus on eating in a healthy way—but it's maybe a sort of an esprit de corps or a spirit of personal pride and self-discipline.
Get in My Belly!
I, on the other hand, don't suffer from alcoholism (I checked! I had two Jamesons a couple of weeks ago and then some rum punch and a glass of Pinot Noir the night after, and none since. Before then, I hadn't had a drink since March 11, 2020) but I do suffer from serious gluttony.
"Come here I'm going to eat you. I'm bigger than you I'm higher on the food chain. Get in my belly!" — Fat Bastard, Austin Powers: The Spy Who Shagged Me
Put anything in front of me and I will feel that I need to pack it away. Waste not, want not, whatever that means (it actually means exactly the opposite of what I had thought it meant. Instead of "eat everything on your plate," it means, try to use as little as possible so that you have plenty down the road when you really need it. I blame my parents for not making this clear to me).
Likely Story with Plan Bs, Cs, Ds, and Es
But I am very bad at that, which is why I have a lot of fallback positions, which is easy to track with my combination of MyFitnessPal and Zero, my Intermittent Fasting (IF) app of choice.
One rule, however, that I need to follow, no matter how much I do or don't eat during my OMAD eating window is not to chase calories. The only reason why diets like Atkins, Carnivore, and even Keto is that the dieter is supposed to want to naturally eat less after they initially gorge themselves on steak, burgers, cheese, and seafood. Their body is supposed to naturally start to push back and let them know, through what you probably perceive as full but I experience as nausea or repugnance. But, I don't think I have that switch, so I need to be a little more careful. So, I build in as many guard rails as I can, as many safety features, as possible.
32, 28, 24, 23:1, 22:2, 21:3, 20:4, 18:6, 16:8
I'll let you know what goes on in my head until now: I initially always want to do a 36-hour fast. But I always have fallback positions. Traditionally, they're 32, 28, 24 (OMAD), 23:1, 22:2, 21:3, 20:4, 18:6, then 16:8.
So, every day, I aim at 32 but I do not allow myself to fall below 16:8. How far back do I generally fall back, routinely? 80% of the time, I can keep to a 20:4, but I routinely do fall back to 18:6 or 16:8. But, every day, I do fast.
Once every two weeks, I blow it all and resort to what's called a Circadian rhythm fast, which is just 12:12. So, stop eating at 18:00 and start eating again at 06:00. So, the way old people eat.
Idido's Coffee and Social House
For example, I just finished a steak sandwich from my favorite café in the world, Idido's Social House and Café, and I would say is pro Fresh Arugula, seasoned steak, capicola, tomatoes, scallions on ciabatta (~525kcal) and chips on a side (~230kcal). All told? Around 755-800 calories for today, which is much lower than the 1,500 I budget myself. However, yesterday, I binged on a bunch of junk, so it all balances, out.
Today, on the way home, I plan to buy a big roast and loads of veggies and throw it all into a slow cooker. So, tomorrow, I will feast on beef, greens, onions, garlic, spinach, broccoli, turnips, and all of the rest of that.
And, I really enjoyed the steak sandwich and chips. I don't want to get a steak sandwich with chips every day, but I also think that grazing all day is much more deleterious to my health, longevity, and fitness than indulging in what I want a couple of times a week and then eating healthy, focusing on intensely nutrition-dense food the rest of the day.
So, who knows? Maybe tomorrow, I will eat ~1,500 calories or more when I feast on beef and veggies, and maybe even a salad tomorrow at lunchtime. Maybe I will have a giant salad the next day. Or, more likely, I will have the same beef and greens and vegetable medley until I finish off the slow-cooked, crock-potted extravaganza.

When I am on a roll, I sometimes revert to One Burrito-a-Day (OMAD) because, to me, a full burrito, which puts a very balanced—though not low-carb—1,200-1,500 calories into a meal bomb that I never become tired of.
Sometimes from Chipotle and sometimes from Burrito Bros.
I am working from home much more nowadays so I am cooking at home, and when I cook at home, I can really ratchet up the nutritional density and the low-carb part of the diet. So, I prefer that, but I also don't want to be too much of a homebound homebody.
So, whatever works—and it's working. It's working for me.
They always tell you to tell them what you're going to say, say it, and then tell them what you said, so: I plan to eat one solid meal a day, at one sitting, and to track it but to not care whether it meets my daily goal, which is 1,500 calories a day, or even over that, if that's even easily possible in one sitting without gorging myself, which is possible, but to not care if my MyFitnessPal tells me that I have not logged enough calories. That's my goal. But, I will be extremely kind to myself when I make any errors, though my backup position is to keep my per-day eating window as small as possible and my fasting window as big as possible.
Please let me know what you think about it and if this is a good idea. It seems to be working. When I started all this, I was pre-diabetic and 350 pounds (158.76kgs, 25 stone) and now I am 316lbs (22.5 stone, 143.34kgs) with an ultimate goal of 100kgs (220.5lbs, 15.75 stone). Wish me luck!
Edited by mahmoodsadiq79