Three-hundred-and-twelve-pounds! When did that happen?
| filed under: Dieting, RNNR, New Years Resolutions, 9Round, Weightloss, Fitness
As I have begun to share over in shop healthy, cook healthy, eat healthy, be healthy, I really let myself go.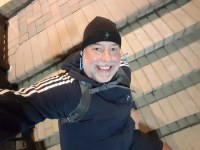 As I have begun to share over in shop healthy, cook healthy, eat healthy, be healthy, I really let myself go. I might have been wearing my fancy new Fitbit Surge but I haven't been rising to any of all the occasions that have been offered to me as a result of being up to my eyeballs in data.
And, no matter what, if you don't track your food and your calories and keep well inside your daily calories intake budget (even if your workouts allow you to add more -- don't do it!), then all will be for naught. Seriously! Reducing overeating and cutting out unhealthy, processed, and junk food is way more important than running ten miles every day -- at least until you are really in fighting shape when the consuming calories -- and calories -- will keep you going. Like the moment you become an ultrarunner like Ginger Runner.
Like my girlfriend said to me the other night, "you know what you need to do, now you need to do it." Indeed.
So, everything's in order now. I am now all about actually being accountable to my data -- and I'm taking much more, too.
For instance, I have owned a Withings wireless bathroom scale since it was introduced -- and I might have bought another one. Well, I have been avoiding it like the plague. 
No more.
Actually, you know what overworking, not tracking calories, not spending hours on my treadmill desk, not commuting by running, not bicycling to my weekly volunteering to Miriam's Kitchen.
Guess what? You don't have to pedal an 1,100cc motorcycle or a comfortable 3-liter sedan.
So, when I stepped gingerly onto my WiFi scale, the flashing white-on-black display didn't lie: 
312.3 pounds! A BMI of 38.8!
The proof is in the pudding. And also in the fact that nothing was fitting, and my shirts are tight across the belly and I'm well into the Big & Tall section, and my Tall XLT shirts really don't remotely fit at all. 
No more denial, no more excuses.
Shit.
Wish me luck. I need to make a dozen changes ASAP for any number of reason including health, fitness, sexiness, general attractiveness, general appeal, the honor of not breaking things I sit on and the ability to fit into airline seats.
So, here's where my journey really begins. 
I feel like I've hit rock bottom.  I don't think I've ever been this big.
So, right after this, I'll take my weight again. I'll make a daily habit of it. After I take my weight, I'll jump onto the treadmill desk, get some work done, and then I'll get to 9Round at around 4 PM or 5 PM and get my sweat in. Maybe I'll spend 30-40 minutes taking a jog before then. 
And that's not it: I am eating cleanly. Salmon, chicken, some beef, and spinach, cauliflower, broccoli, brussels sprouts, 2% Fage Greek Yogurt, blueberries, pomegranate seeds, avocado, butter lettace, canned tuna and sardines, and lots of water and very little red or white wine.  Once you get into it, it's fine.
Bloody hell!
I'll end this bloody post because I just discovered that I'm avoiding taking that weight, I'm avoiding walking that tread, I'm avoiding drinking that water, and I'm postponing my run and my time at the gym. 
Damn am I slippery!
Note: I just received a Messenger chat from a woman named Sandra and she told me 'te recomiendo que sigas bailando,' "I recommend that you keep dancing." That's another story. Apparently, I know how to dance Salsa, Merengue, Lambada -- I think I had forgotten because I think it's hasn't been since I was 26-32, from 1996-2002, that I was a Latin Dancer. Maybe I can convince my lovely girlfriend to The Salsa Room here on the Pike or even lure her to Cafe Citron, where I would dance and dance and dance over 150-years ago!