The Asics Novablast is an amazing walking shoe
| filed under: FLYTEFOAM Blast, Running Shoes, Novablast, AHAR rubber, ASICS, Flytefoam Blast, ASICS Novablast, Walking Shoes, Runner's Warehouse
I bought last season's Asics Novablast 1 on sale at Runner's Warehouse and didn't get the world's best running shoe or trainer, I got the world's most comfortable, squishy, and comfortable walking shoe.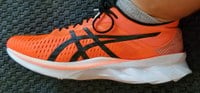 ASICS Novablast 1
These are my US size 13 ASICS Novablast 1 running shoes in Sunrise Red. There are many like it, but this one is mine. When I heard Kofuzi review the Asics Novablast, he suggested that this shoe was originally produced to be a casual wear shoe that became a fan favorite and a runaway best-seller in the running world. I avoided it because I had a less-than-ideal experience with the Asics Glideride 1 I had bought. The sole collapsed and I needed to throw the shoe away.
But, when Runner's Warehouse offered the Novablast for $80.45 shipped versus $130 new. I needed to jump on it. And I am glad I did because it's amazing. It is a seriously neutral shoe. It might be a lot unstable as a running shoe but as a walking and casualwear show, it's a dream.
And, as you know, I am plus-sized. And it's as squishy and as comfortable as everyone has said. It's even much more of a pleasure to wear on a day-to-day casualwear shoe than my too expensive Adidas Ultraboost 21s, which took weeks of wearing before they became butter soft and the booty style uppers. And the garish fluorescent salmon color I was able to find my size in has gotten a lot of attention.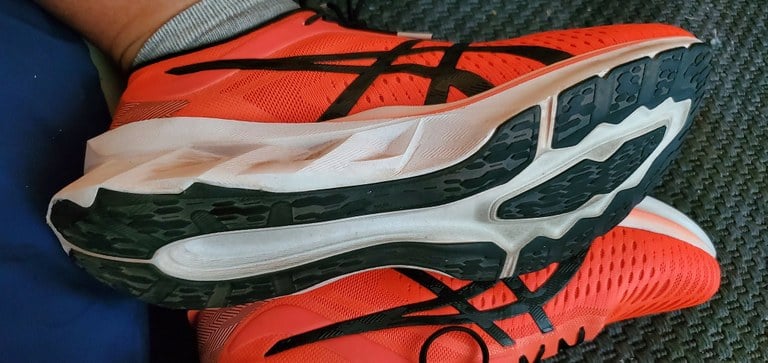 As my photographer dad always said, "always make sure there's a splash of color." I totally understand, especially if it's a conversation starter. The lacing is good. I feel like I needed to use the runner's knot and use the "extra" eyelet to cinch it down, but once it's tied, it's an all-day tie (and I double knot).
The bootie is comfortable and there's a lot of room in the toebox for me and the jacquard mesh fabric upper has plenty of vents and doesn't feel as hot as the Ultraboost 21s are. They feel really durable and the outsole's High Abrasion Rubber (AHAR) has a lot of coverage so I assume it'll last for a while.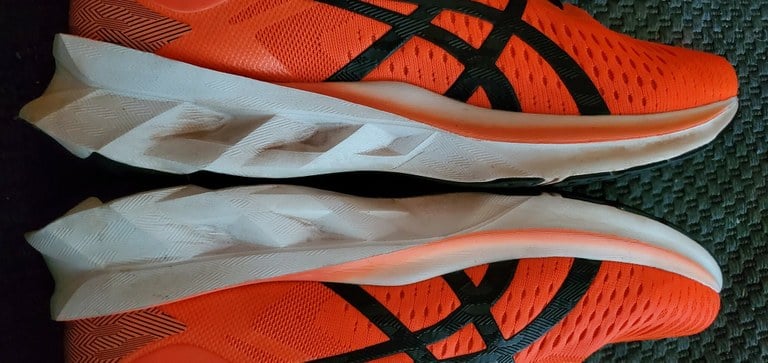 It makes me happy. I like it. And, since there is such a steep heel drop of 10mm, the heel is 37mm but the forefoot is only 27mm so if you're a forefoot runner, which most slow joggers are, it's quite a bit more stable than you would think than if you're a heel striker.
But, there is enough of their super-bouncy, super-squish, Flytefoam Blast foam, even in the forefoot, that I feel like everywhere I go I am walking on a gymnastic spring floor. If you can find the first version that I am sharing with you here, get them. At $80 delivered, it's a deal.
And the squish is amazing. I could easily walk all day without feeling beat up, even if I choose a lower-stack-height, more minimalist, neutral shoe for slow jogging.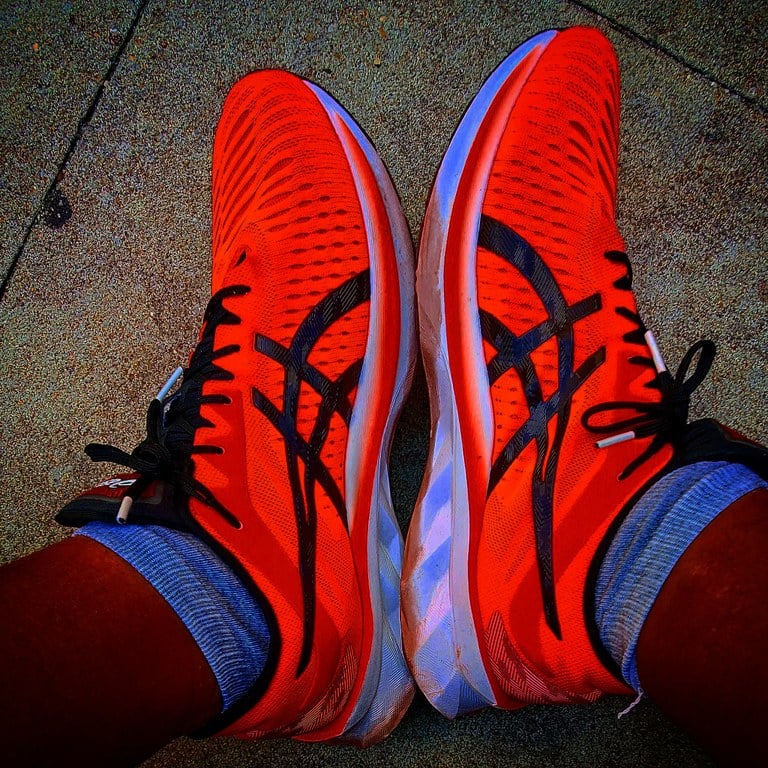 From ASICS
Looking for a shoe for neutral runners seeking a responsive running experience? Look no further! The NOVABLAST™ shoe is a lightweight design featuring FLYTEFOAM® Blast midsole foam for an energetic bounce while you run. The outsole and midsole of the NOVABLAST™ shoe have been designed to help promote the energized feeling of a "trampoline" effect that propels you forward. The NOVABLAST™ shoe has more foam underfoot or increased midsole stack height than other ASICS running shoes, but that lift and extra cushioned feel is designed for the NOVABLAST™ model to improve comfort over longer distances. The shoe's soft, engineered mesh upper delivers excellent airflow, keeping your feet cooler throughout your run. Additionally, reflective details provide extra visibility in low-light conditions. Put a bounce in your step with the new NOVABLAST™ performance running shoe and experience a soft and lightweight ride. Not sure the NOVABLAST™ is the right shoe for you? Check out the full line up of ASICS cushioning shoes and other neutral shoe models!