Reddit is rolling out new user profile and moderation features
| filed under: Social Media, Reddit, Social Media Marketing
Reddit just offered me the ability to have a lovely twitter-like new profile page with profile image and header photo. This started rolling out 5-months ago.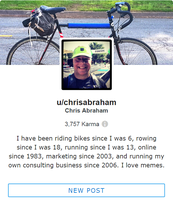 My new reddit profile
I have been on reddit for over 11-years and it's taken 5-months to receive this "post-to-profile" experience. I had spent two days writing a blog post love letter to my 7-year old bike over the weekend and ended up sharing that love with the /r/bicycling/ sub on reddit. While there, reddit offered me a new user experience and user page, /u/chrisabraham/.
Unlike before, where you would have to take your chances posting your links and content to a proper subreddit, you can now post whenever you want to on your own profile page.  Those profile posts will be combined with your other submissions to create something more akin to the love child of Facebook, Twitter, digg, and del.icio.us.
So, in digg or Delicious, you can submit your own links or content to your own profile and other people are welcome to comment or upvote (or downvote) but they're not allowed to drum you out of the corps because you're only sharing–or shilling–on your own space.
I personally have no clue as to if this personal profile space will will have any effect on organic SEO, but it does look like something very worthwhile experimenting on. Here's what the entire experience looks like when I come upon my own page: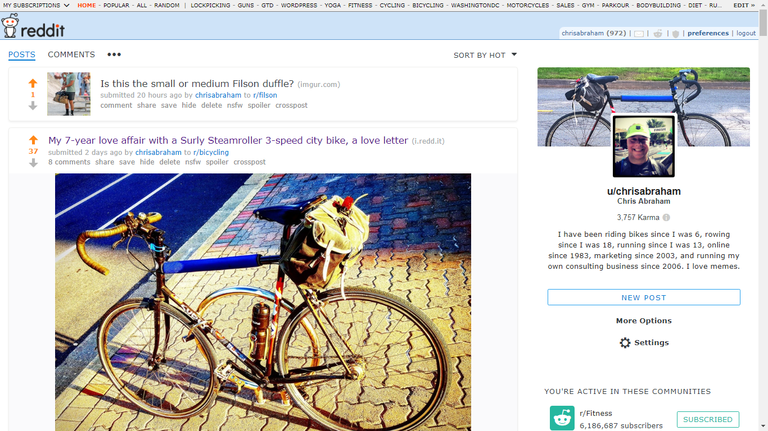 And here's what the profile page looks like when I am not logged in — so, the page is public to anyone, which is cool: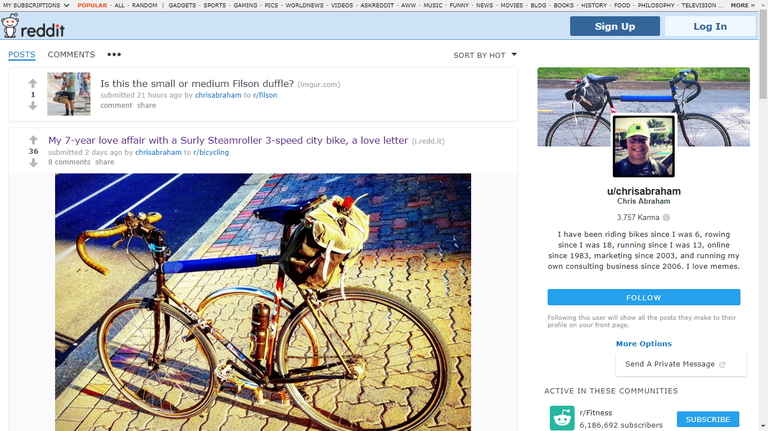 You can now avoid reddit's 800-pound gorilla and elephant in the room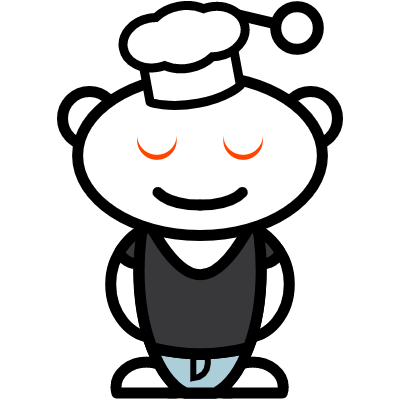 I'm no expert but reddit is the elephant in the room of social media marketing. As a marketer, I am scared of reddit as reddit is the 800-pound Gorilla in the room. But I have been a member of reddit for such a long time and have yet to get kicked off, thank you reddit gods.
The only time I have ever succeeded in leveraging reddit towards readers, hits, and visitors en masse is when I actually put down my guns-a-blazin' and got real with on the subreddits (or, subs, colloquially) I frequented, and then shared my personal blog posts directly there.
Two cases in point are becoming a reddit Internet sensation which was based on In praise of being dead last in a race. The other, just the other day, was my 7-year love affair with a Surly Steamroller 3-speed city bike, a love letter which linked to my 7-year love affair with a Surly Steamroller.
So, in each instance, I have let months and months pass between content that I consider interesting enough to even consider cross-posting and sharing on reddit. Now, I can cross-post and share any and all content I want without needing to worry about the typical blowback indicative of being perceived of shilling at all on reddit's proper subs.
So, if you haven't explored reddit recently, it's worth a visit. Good luck and let me know what you discover!
Via Biznology