Memories of Renaissance at Oxford
| filed under: Phil Lader, Oxford University, Pembroke College, Renaissance, Renaissance Weekend, RenWkd, Linda Lader
Back in 2002 I attended a special conference on the campus of Oxford University and lived in a student cell at Pembroke College. It was amazing.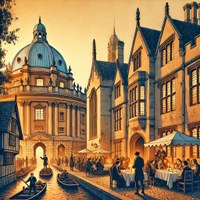 Pembroke College at Night
Attending Renaissance Weekend in Oxford, US, was as close to a Rhodes Scholarship as I have ever been able to have (though, out patron and host was, indeed, a Rhodes Scholar himself, at Pembroke College). I have lots of photos, none of which I have on-hand; however, I was going through my super-old email and I discovered these two lovely emails from Linda Lader, wife of Phil Lader⁠—the power couple founders and hosts of Renaissance Weekend.
Email 1
We are very pleased you will be joining us soon for our Summer Renaissance
Weekend in Oxford! Please help us . . . to help you. In order to ensure
that you get the most out of the Weekend, kindly read this letter and the
attached materials thoroughly and let us know if there are changes in your
plans - especially if you want to decline any assignments!
Since time is of the essence, we want to be sure that you receive and can
access the attached documents. Therefore, please simply hit "REPLY" when
you have downloaded them and assure us that all is well . . . or advise us
of a fax number to which we should send these materials.
On Wednesday, July 31 from 2:00 p.m.
until 5:30 p.m.
If your lodging accommodation is: Register with Renaissance Weekend
at:
Randolph Hotel Randolph Hotel
Old Bank Hotel Old Bank Hotel
Christ Church College Pembroke College, across the street
from Christ Church College
Pembroke College Pembroke College
Other Randolph Hotel
Therefore, it is imperative that you let us know right away where you will
be staying.
After 5:30 p.m., please note that all Renaissance Weekend Registration
materials will be available for you at Oxford University's Pembroke College
for the remainder of the evening. As you will see from the attached
Program, our opening reception will be on the lawn at Pembroke at 6:00 p.m.
On Thursday, August 1, you may pick up your registration packet from the
Renaissance Weekend Help Desk at the Examination School - where all programs
will be held that day.
Some highlights of the Weekend ....
* OXFORD AND SURROUNDING AREA - All day Friday and Saturday afternoon will
be left free for historical, architectural and literary tours, punting,
museum-going and outings. 
* A WIDE ARRAY OF TOPICS, WITH FOCUS - "The View from Europe."
* ALL TYPES OF PANELS - There is an Academy and Seminars in addition to the
usual array of panels. Yes, there are too many choices, but there should be
ample opportunities for in-depth conversations with many of the other
participants.
Attached to this e-mail is the Summer Tentative Program
(SummerTentativeProgram.doc). The attached Sign-Up Form for the Bodleian
event (BodleianSignUp.doc) should be completed and returned to us right away
even if you have previously indicated your interest and intent in attending.
Please note that you should mail your payment ($135 per person) to
Renaissance Weekend as soon as possible.
Due to space and time constraints, participant names are not listed on the
Program ... just topics and times. In a separate e-mail from Debbie Shaw
you will receive your updated Registration Confirmation (please double-check
your critical name tag information) and your Program Assignments which you
should carefully check against the documents we are now sending you, and let
us know by Monday, July 15, if any adjustments or corrections are needed.
Please note that the Renaissance office will be closed after July 25. You
may reach the Renaissance Weekend team after that time by e-mail at
Re[email protected] or through the Randolph Hotel operator (Phone:
011-44-870-400-8200; Fax 011-44-186-579-1678. If calling from within the
U.K., please replace the "011-44" with "0").
Until we meet in Oxford, warm regards ... and thanks in advance for your
quick turnaround!
Linda and all the Renaissance Weekend team
Email 2
Below you will note both new information and important reminders on....
(1) Being good ambassadors 
(2) Transport to Oxford and getting around in Oxford 
(3) Important telephone numbers 
....(#s are listed as dialed within UK; drop 0 & add 011 44 if dialing from
USA)
(4) Blenheim Palace tour 
(5) Bodleian dinner and tours (URGENT message for those already signed up) 
(6) Teen Guidelines
(1) We trust you are getting ready for a very British adventure in Oxford,
an experience characterized by: walking, not driving..... waiting, not
rushing.... inquiring tentatively, not demanding.... speaking slowly, not
talking loudly..... and (especially for the benefit of our dedicated and
exhausted RW Team) accepting circumstances graciously and not grumbling. In
short, we all look forward to an adventure in shattering the stereotypes of
the "Ugly Americans"!
(2) How are you getting to Oxford? Our suggestions....
FROM GATWICK OR HEATHROW: 
Oxford Bus Company (www.oxfordbus.co.uk; phone 01865 785 410)
Follow signs to Buses. 
From Heathrow Central Bus Station, which serves Terminals 1, 2 & 3, Oxford
Bus leaves from Bay 10; 
...from Heathrow Terminal 4, look for Bay 15.
Bus leaves Heathrow every 30 minutes from 6:30 am to 11:50 pm. 
From Gatwick South Terminal, depart from Bay 8; 
...from Gatwick North, from Bay 4.
Bus leaves Gatwick every 30 minutes from 6:10 am to 11 pm.
FROM LONDON:
The Oxford Tube (www.oxfordtube.com; phone 01865 772 250) 
These buses run every 12 minutes from 5 locations in central London. 
Get off on Oxford High Street if staying at Old Bank or Eastgate. 
Back track half a block (but never say "block" for linear distance in the
UK... it means something totally different!) for the Eastgate. For the Old
Bank, continue for 500 meters (3-5 minutes), and the hotel is opposite Catte
Street (pedestrian). 
(You may notice a directional sign for the Old Bank by the Eastgate Hotel at
Merton Street... ignore it unless you are driving---it's the long way round
to the car park.) 
If staying at the Randolph, get off the bus at the next (and last) stop,
Gloucester Green, which is 3-5 minutes walking distance from the Randolph.
For Christ Church, Pembroke, the Old Parsonage and excess baggage, the taxi
stand is through the Green, outside the Odeon theatre.
Trains from London Paddington Station to Oxford 
(All UK Rail inquiries 08457 484 950)
Trains run between Paddington and Oxford every half hour throughout the day,
18 and 48 minutes past the hour, and they take one hour. Upon arrival in
Oxford, a taxi is recommended for all lodging locations, and they are found
just outside the station.
PRIVATE CARS & TAXIS:
(This is new information, not sent to you previously.)
These Oxford-based companies pick up from the airports, from London or
elsewhere. Booking in advance is required for airport pickup. They are
listed from least expensive to most expensive (the third promising only
Mercedes):
001 Taxis Tel: 01865 240 000 Fax: 08700 717 171
ABC Taxis Tel: 01865 770 681 Fax: 01865 772 277
Pryors Cars Tel: 01235 511 111 Fax: 01235 816 372
Should you rent a car, the Old Bank has parking for guests at no charge, as
does the Old Parsonage, but space is very limited. The Eastgate arranges
parking for a charge, and to park at the Randolph guests must make
reservations with the garage in advance (Phone 01865 248 689). Parking and
driving in Oxford have been rendered extremely difficult.... intentionally!
You certainly will not need or want a car during the Renaissance Weekend
activities, unless you wish to use it for outings on Friday or Saturday
afternoon. Just bring your walking shoes... and an unbrella, just in case.
(3) Other Important Telephone Numbers:
Directory Assistance 192
Emergency 999
Christ Church College Porter 01865 276 150
Eastgate Hotel 08704 008 201
Old Bank Hotel 01865 799 599
Old Parsonage 01865 310 210
Pembroke College Porter 01865 276 444
Randolph Hotel 08704 008 200 
(The Randolph is the best location to leave messages for the Renaissance
Team. Because they are now traveling, they may not be able to respond to
messages or email until Monday, July 29.)
(4) The opportunity to sign up for a private tour of Blenheim Palace,
including transportation and the options of lunch and a visit to lovely
Woodstock, will be available at Registration.
To remind you, Registration is Wednesday, July 31 from 2:30 - 5:30 p.m at
Pembroke College (for those staying there or at Christ Church College), at
the Old Bank for its guests, and at the Randolph Hotel for everyone else.
Evening activities (and latecomers' Registration) will take place at
Pembroke College, beginning at 6 pm, except for Camp Renaissance, which will
always be held at the Randolph Hotel.
(5) We anticipate a lovely dinner at the Bodleian Library/ Divinity School
on Friday, August 2 for those who have signed up in advance. Since seating
is strictly limited to 150, age 15 and older, notification of any
cancellations or change in plans is requested immediately to enable us to
fill spaces from the Wait List. (If your space is filled, your payment will
be fully refunded.) However, due to circumstances beyond our control, there
has been a change in plans for the afternoon Tours of the Bodleian Library,
which necessitates a new Sign Up and reallocation of reservations. This will
take place at Wednesday's Pimm's Reception at Pembroke College. Details
follow:
After extensive negotiations, we have "maxed out" the numbers of tours
possible during Renaissance Weekend, which necessitates the Bodleian being
closed to public tours on both Friday and Saturday of our events. Should you
wish to take a tour, during the Pembroke Reception it will be necessary for
you to sign up for one of the times listed below. (Apologies for making you
do this again!)
Friday AM, August 2
10.30 am, tour for a total of 15 people
11.30 am, tour for a total of 15 people
A total of 30 people to take a tour in the morning.
Friday PM, August 2
3.20pm, 3.30pm, 3.40pm and 3.50pm, for a maximum of 15 at a time
A total of 60 people to take a tour in the afternoon.
Saturday AM, August 3 
10.30am, tour for a total of 15 people
11.30am, tour for a total of 15 people
A total of 30 people to take a tour on Saturday. (These individuals will
thus miss an hour of Renaissance Programs at the nearby Randolph Hotel.)
Those of you who have done the math recognize that this plan only
accommodates 120 of 150 people. What to do? Anyone who will be arriving
early or staying late can take the tour Monday, Tuesday or Wednesday this
week or next. (Just e-mail us and we'll happily make arrangements.) Some of
you didn't sign up for a tour.... maybe because you spent the best years of
your youth at this very spot? Or maybe some of you can unselfishly forgo the
experience... or perhaps your diary (calendar) is full? (You'll see the
"show" rooms at dinner Friday night anyway.) If you miss out and you wish,
we will refund your $5 - $6 tour fee ....or I'll try somehow to make it up
to you! Since we are straining the flexibility of this 800 year old
institution to the limit, this is the best I can propose.
Which brings me to another point. Why can't I give you an exact figure for
the cost of the tour? You guessed it .... that falling dollar. As you
exchange and spend your money in the days ahead, be assured: we are
literally feeling your pain as we cover the meal and meeting expenses for
our time together with devalued dollars.....
But, as the British say, "Mustn't grumble. Could be worse." Indeed, we
anticipate a great time together in Oxford. Speaking of great times, I
didn't forget....
(6) Teen Guidelines. Teens and parents of teens: You will receive more
information in your Registration Packets, mostly pertaining to times and
places.... For now there is just one big issue: alcohol. In the UK one can
be served beer in a pub at 16, at 18 it is legal to buy and consume any
alcohol; these laws are not even strictly enforced. At a meal, wine will
likely be offered to adolescents if adults are at the table (and maybe even
if they are not). Obviously there is no way we can control or even monitor
the behavior of teens in Oxford. Thus we urge you to discuss your
expectations regarding alcohol, hours and the like... thoroughly, candidly
and realistically before your arrival in Oxford. Our expectation?
Appropriate behavior .... and not just from teenagers!
We look forward to learning from you in the days ahead ... and we wish you a
good journey and happy (?) packing in those suitcases soon to roll down the
streets of beautiful, historic Oxford....
Linda