Addicted to Blundstone Boots Since 1996
| filed under: Blundstone Boots, Blundstone 500, Blundstone Boot, Blunnies, Blunny
Long story short, during the Summer of 1996, I had decided to wear steel-toed boots on a plane trip with stops all across the earth. Even though it was five-years before 9/11 and the TSA didn't get exist, metal detectors did. By the time I got to Sydney, Australia, I traded the heavy pair of construction boots for a sleek pair of slip-on Australian farmer boots: a sleek chic pair of dark brown Blunnies—Blundstone 500s.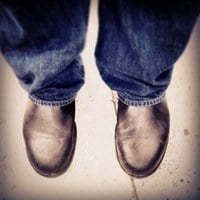 My Blundstone 500s
Since 1996, I haven't worn anything else on my feet outside of athletic shoes. That's not true: I had a brief affair with another type of Australian farmer boots—Rossis! Rossi boots. 
Even in those days—those 24-years-ago—I believed that Blundstones would, at some point, become the new Doc Martin boots. And they have, finally! And, I like to think that I am completely responsible for the fact that men and women, young and old, chic and trendy, have adopted not only the Blundstone 500 but from Blundstone's growing and expanding line of exciting variants.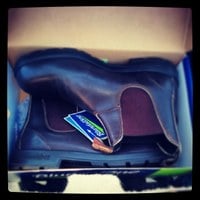 So, I feel like I called the Blundstone and the Filson frenzy. I bought my first Filson bag back in 2003—an original briefcase in Otter Green (I got the color wrong), and I have been carrying Filson bags and wearing Blundstone boots every since (namely, black or brown 500s). 
The longer story: In the Summer of 1996 I joined Anne Brossard on an around-the-world tour using an around-the-world plane ticket. Around the world tickets used to be the sort of things that people did in their halcyon college days.
In this case, Anne was about to attend Columbia and she wanted to do some traveling between working for the Clinton White House and going to Grad School.
And I was a stock photographer who had recently lost my dad to a heart attack so I took the beat to get my head on straight. The tickets started in NY so I needed to get up there from DC, and then we flew to Los Angeles, then Honolulu, where I grew up, and then to Auckland (with some time in Rotorua), and then Sydney, Australia.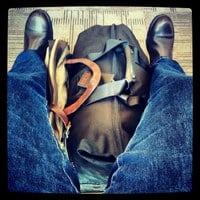 It was there, as I said above, where I decided that I couldn't spend the rest of my trip getting pulled from airport lines for having steel-toed construction boots, unlacing, removing, and lacing boots, and the annoyance of not being able to just pass through the lines with ease. I just happened to discover those Blundstones by happenstance and I think it was probably in some shop in Glebe, maybe directly on Glebe Point Road.
I can only remember that I had never seen them before, that I could easily afford them, and that I wore them out of the store and dumped those heavy, leather, laced, steel-toed boots into a trash bin right outside of the store. They were perfect. 
In the beginning, getting Blunnies in the US was a little tough. I started dating a girl in 1998 called Michelle Nolan. Her birth father just happens to be world surf champion Australian Kiwi White. By the time she and I started dating, those two were as thick as thieves. So, Kiwi became my major supplier of Australian farmer boots (he must have thought me mad!). And he's the man who introduced me to Rossi boots (very cool but very chunky, much more committed to the air-sole, similar to what're on Doc Martin boots).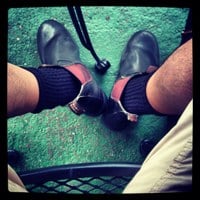 While Rossi boots are always more comfortable than Blundstones, they're not nearly as chic, sleek, and hybrid. When you see someone in a pair of Blundstones, you don't automatically assume they're dressing down.
They can be very well-shined (I stop at all the shoe shiners that I can find, wherever I am) and they can be dressed up and down. I even wear them with black socks and khaki shorts. It's sort of a Billabong-cum-Elf-cum-Peter Pan look.
Ask anyone: if I am not wearing running shoes, I will wither be wearing all-black, all-rubber Havaianas rubber slippas/flip-flops or a rotating pair of Blundstone 500s. Even though they slip on and off and have almost zero support or protection, they were my motorcycle boots of choice as well. At least they looked safe when you saw them under my blue jeans. 
And because Blundstones, to me, aren't trendy—well, they are trendy but they look classical and traditional—so I will surely be able to continue wearing them from now, at the edge of 50, through my 60s, 70s, 80s, and inshallah, 90s and on. Join me! I am happy to see my Blundstones on your feet—on everyone's feet!