The 4 Year Olympian: From First Stroke to Olympic Medalist by Jeremiah F. Brown
| filed under: Rowing Book, Book Review, Rowing, Crew, Olympics
Wow! This is the most humanizing Olympic superhero story ever
My Review
The 4 Year Olympian is beautifully written. Amazingly intimate and personal. So much painfully beautiful detail. Extremely humanizing, breaking down what easily could have been a boorish brag fest into a page-turner that makes the extreme price and cost of becoming an Olympic silver medalist—including the madness, insecurity, paranoia, anxiety, anger, rage, and disappointing trader goes along with all the rewards and camaraderie, all that pride and cocksureness. The author, Jeremiah, is a lot. And he knows it. And he shows the beauty and the ugly. This is a special book and not a downer. I promise. And even the ugly humanity it extremely beautiful as rare. I highly recommend it. I rowed in college but you don't need to be an athlete, a rower, or even a Canadian to enjoy this surprisingly long book.
Book Description
It started with learning how to not fall out of the boat and ended with crossing the Olympic finish line four years later. The 4 Year Olympian is a story about overcoming self-doubt and giving everything you've got in pursuit of a singular goal. 
Editorial Reviews
Review
Jeremiah Brown is a badass athlete with the soul of a writer. This is not your average, sanitized account of the path to Olympic glory—it's a brutally honest, funny, and at times horrifying book about what it really takes to change your own life. (Kate Fillion, author of How We Can Win)

A gutsy, unflinching and ultimately inspiring peek beyond the Olympic podium at the high cost of chasing precious metal. Jeremiah Brown writes the way he raced, with rage and pain and power. He holds nothing back. (Ken MacQueen, Vancouver bureau chief, Maclean's)

Startlingly frank, at times wrenching, Jeremiah Brown's account of his journey to an Olympic medal is an inspiration — not just for athletes but for anyone who is facing a challenge they think is insurmountable. (Tom McCarthy, award-winning author and editor)

A story of family, ferocious determination, and the remarkable people who helped make it possible! (Charley Butt, Men's Heavyweight Rowing Head Coach, Harvard University)

An extraordinary story about how far passion and perseverance can take you. Jeremiah Brown's struggle, challenges, and ability to overcome are incredibly relatable. This is a must-read for any dreamer pursuing a passion. (Michael Callahan, Head Coach, Washington men's rowing team)

Tells the story of what it means to train hard, really hard, and develop the mental and physical skills needed for success. (Toronto Star)

Inherently fascinating and ultimately inspiring, The 4 Year Olympian is an extraordinary memoir. (Midwest Book Review)

Candid and inspirational, The 4 Year Olympian is captivating from cover to cover and highly recommended. (Midwest Book Review)
About the Author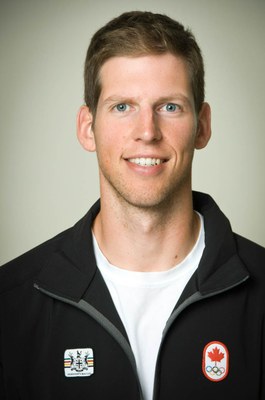 Jeremiah Brown won an Olympic silver medal as a member of the Canadian men's eight rowing team at the London 2012 Olympic Games. He is a leader in athlete transition and wellness, a Canadian sports system expert, speaker, dad, and drummer who has played with Juno-winning artists (once). He lives in Peterborough, Ontario.
Excerpt. © Reprinted by permission. All rights reserved.
Growing up.

My little sister, Julia, cried whenever I swore. My older sister, Jenny, dug her nails into my forearms when I bothered her one too many times. I'd look at the purple indents under the smooth skin where the top layer had been raked away and enjoy the burning sensation. The marks and the pain were like a badge of honour. 

Sibling skirmishes made up our childhood most days, and perhaps three times in my life led to an ear slap from our German mother, who just couldn't take any more. She'd yell "Ohrfeige!" as she jerked her shoulders up and whipped that straightened arm around to connect her palm with the side of my head. It was the same motion as a tennis forehand blasted down the line, and each one landed with brilliant accuracy. Unless severely provoked, my mom, a French immersion teacher, was and always has been a loving mother of three: sweet, kind, and patient. But there was a switch inside her that my troublesome nature always had weight on, like a finger applying slow pressure until I finally flipped off the lights inside my mom's brain. 

I inherited the same volatility as my mom, but with a much shorter fuse. Playing board games with me was like walking through a minefield. If I won, everyone would survive. If I was losing, I might explode before the game even ended. 

The game Memory was a family favourite. My mom would sit across from me, glancing over wearily while Julia gleefully stacked pair upon pair as if she'd lived every scene on the cards. The German shepherd in the tall grass may as well have been her first pet; the card with a straight country road lined with poplar trees ― as knowable as our own cedar-lined driveway; one of the three pairs of slightly different bouquets of flowers ― like she'd just cut and arranged them herself. 

Mom knew I was churning inside. Julia's eyes shone brightly above her round cheeks, effortlessly mapping out pairs in anticipation of her next turn. Her memory was too good for me, and it killed me. 

Jenny's self-control was equally infuriating. She'd hold her head high and exhibit patience and excessive good sportsmanship until I could not stop myself from flicking her in the ear. Then her upper lip would recede, bearing vampire-like eye teeth, and she'd crush her eyebrows down and together so hard I thought they'd fuse. The sequence was as predictable as a cobra flaring its hood. When she finally struck back, I was ready. 

My mom would intervene, sounding like Arnold Schwarzenegger. Stress made her revert to the German accent that revealed her upbringing by post–World War II parents in East Germany. As the melee grew, my dad would put down his Globe and Mail newspaper or whatever book on philosophy he was reading at the time ― Being and Time by Heidegger, perhaps ― and, jarringly pulled back into the reality of a wife and three kids, bark, "What's going on in there?" 

Usually a threat of grounding followed, or, if I was being completely unreasonable, the sound of my dad taking off his leather belt, securing it in a loop, and yanking it in and out to make a threatening crack that my sisters and I could hear no matter which nook or cranny of our old house we may have been hiding in. This demonstration was intended to foreshadow the sound of the belt whipping my bare ass in the spanking that came next. When he finally caught me in his vice grip, I'd buck so hard that my dad could barely keep me belly-down over his knees to deliver a clean strike. 

My dad romanticized the great thinkers of the past, letting his lips drop open into a small o as he looked through you to a space just behind your head and searched for the perfect quote from antiquity to enlighten you. At dinner, he would sit back in his throne, a wooden chair with decoratively lathed legs and back supports, and ponder aloud to three kids who couldn't understand and a wife who had come to know not to engage in an argument that would become accusatory and end unresolved anyway. I tried to wrap my young mind around my dad's philosophical dinnertime questions: What is truth? What is a good life? What is the soul? 

As much as I tried to understand his inner life, my dad was largely a mystery to me growing up. He didn't talk about his past. He had finished a master's degree in political science at the University of Toronto and had ambitions to pursue a PhD, but then three kids and the necessity to provide for his family stymied his academic pursuits. The PhD was a goal that would have stretched him even if he'd had all the time and resources in the world. It was his life challenge, the pursuit that got away. Regret. 

When my dad was in grade four, he struggled with reading and writing. On the last day of school that year, he'd walked home and announced to my grandparents that he would be repeating grade four of his own accord. It was one of the few stories from his youth he proudly shared with us. Another came cackling out of my uncle Tim, one of my dad's five brothers, while we were sitting on the screened veranda of the Brown family cottage in Muskoka. I was twelve. He said that when my dad was in his late teens he had been watching his older brother David trying to windsurf with shiny new gear: new wetsuit, new board, and new sail. After several attempts, David gave up, saying the conditions weren't right; there was too much wind (though any windsurfer knows there's no such thing). My dad had been watching David while plastering the boathouse cedar siding with black stain, and my uncle Tim had been re-roofing the red shingles above. When David neared the dock, my dad set down the stain and wiped his hands on his dirty overalls. Then he jumped into the water, mounted the windsurfer, and went cutting across the lake with his rear end skimming the water like a pro. My uncle Tim broke up in laughter recalling the sight of my dad upstaging my uncle David in tar-stained overalls. 

This story has been etched into my brain ever since. For better or worse, I think it put it into my head that there is no prerequisite for attempting something in earnest and being successful. 

My dad would never be caught telling a flattering story about himself. Self-accolades were vulgar. I had to piece together an understanding of his youth from my mom, uncles and grandparents. 

Over the years, I learned that he'd ridden a bull, hitchhiked across Canada, ridden his bike from Ancaster to Muskoka more than once, and worked in a railyard where he saw a fellow brakeman get crushed between two cars. I concluded that my dad was an interesting man with many talents who'd mostly packed them away and retreated into his own head to consider the Big Questions. This created an urge in me to compete for his attention with all those philosophical concepts taking up room in his head. He'd respond tepidly to my constant attention-seeking antics. Most good news and achievement was greeted with a gently toned "Mmm hmm" or a light "Is that right?" Perhaps because of his own disappointments in life, perhaps because of a recent reading of Nietzsche's attacks on Christianity, he seemed to mute genuine enthusiasm as naturally as wetting his lips. 

There is so much I respect about my dad ― unfailing honesty and integrity being foremost ― but during my teenage years, often catching myself morphing into him, I became determined to avoid the same sense of dissatisfaction. He'd had kids too soon, and three of them were too many. 

"Dad, why did you have us?" I once asked, to which he blankly stared back at me, blinking, unable to come up with an answer. He should have finished his PhD and become a university professor. Then he would be happy, I thought. Instead, he met my beautiful mom, fell in love, and couldn't recover in time to resume focus on his academic ambitions. My sisters and I came shortly after ― three deep spikes in the coffin holding his ambition ― and he settled for teaching history to adults who hadn't completed high school. 

Marriage is a black hole. I'll never get married, I told myself. Kids are baggage. I would do something different, whatever that meant, with my life.