Seven Days in May Film
| filed under: Reviews, Review, Movie Review, Movie Reviews
Seven Days in May could very well have been made in 2019.
Same shit, 50 years earlier. Exactly the same. Amazing. Not the players but surely the existential threat, the irrational fear of Russia, and the heavy political hand of the military. It deals with issues of strength and pride and past greatness and muscle over mind. While it's totally campy, it's reassuring and wonderfully "by the people, for the people" patriotic. A $2.99 HD rental on YouTube, Google Play Movies, Vudu, and iTunes.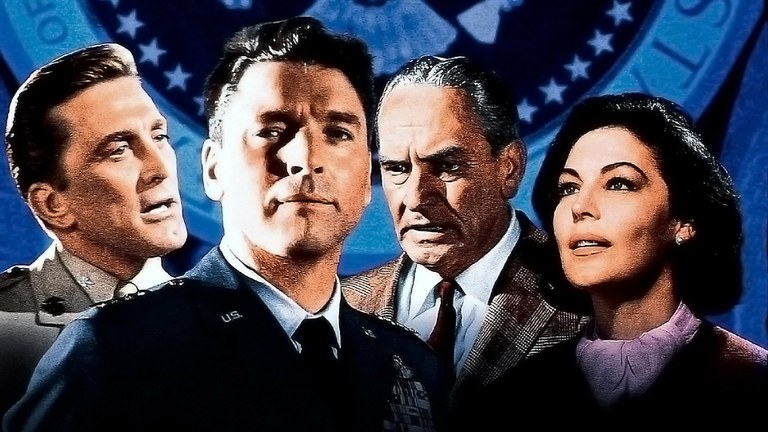 Synopsis of Seven Days in May
U.S. President Jordan Lyman (Fredric March) hopes to bring an end to the Cold War by signing a nuclear disarmament treaty with the Soviets, much to the displeasure of the hawkish General James Scott (Burt Lancaster), Chairman of the Joint Chiefs of Staff. When Scott's aide, Martin "Jiggs" Casey (Kirk Douglas) stumbles on shattering evidence that the General is plotting a coup to overthrow Lyman in seven days, "Jiggs" alerts the President, setting off a dangerous race to thwart the takeover.
Storyline
An unpopular U.S. President manages to get a nuclear disarmament treaty through the Senate, but finds that the nation is turning against him. Jiggs Casey, a Marine Colonel, finds evidence that General Scott, the wildly popular head of the Joint Chiefs and certain Presidential Candidate in 2 years is not planning to wait. Casey goes to the president with the information and a web of intrigue begins with each side unsure of who can be trusted.Written by John Vogel <[email protected]>
Cast
Burt Lancaster Burt Lancaster ... Gen. James Mattoon Scott
Kirk Douglas Kirk Douglas ... Col. Martin 'Jiggs' Casey
Fredric March Fredric March ... President Jordan Lyman
Ava Gardner Ava Gardner ... Eleanor Holbrook
Edmond O'Brien Edmond O'Brien ... Sen. Raymond Clark
Martin Balsam Martin Balsam ... Paul Girard
Andrew Duggan Andrew Duggan ... Col. William 'Mutt' Henderson
Hugh Marlowe Hugh Marlowe ... Harold McPherson
Whit Bissell Whit Bissell ... Sen. Frederick Prentice
Helen Kleeb Helen Kleeb ... Esther Townsend
George Macready George Macready ... Christopher Todd
Richard Anderson Richard Anderson ... Col. Murdock
Bart Burns Bart Burns ... Secret Service White House Chief Art Corwin
Details
Country:
 USA
Language:
 English
Release Date:
 March 1964 (Austria)
Also Known As:
 Seven Days in May
Filming Locations:
 Arizona, USA
Budget:
Production Co:
 Joel Productions, Seven Arts Productions 
Runtime:
Sound Mix:
 Mon
o
 (Westrex Recording System)
Color:
 Black and White
Aspect Ratio:
 1.85 : 1