RowVigor drives me harder than I can myself
| filed under: Indoor Rowing, RNNR, Erging, Concept2
I own a Concept2 Model C indoor rower and I love it . . . though I only seem to be using it during official Concept2 Online Challenges.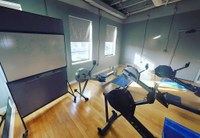 Row Vigor popup Indoor Rowing classes in Arlington, Virginia
I own a Concept2 Model C indoor rower and I love it . . . though I only seem to be using it during official Concept2 Online Challenges. When I am responsible to my virtual team, Team Grotto, or to a challenge certificate and mug, then I put in time on the erg. But other than that, it just sits there. 
Last week, I heard about a pop up indoor rowing class called Row Vigor that uses the Concept2 rowing ergometer that opened up over at Saffron Dance on Wilson.
I not only signed up for a free class to try it out but also paid to take a class with my friend Betsy, someone who thinks indoor rowing is the most stultifying thing in the world (spoiler: she still does).
Fola Awosika is an awesome rowing coach, though he's from a football background rather than from rowing, college crew, or whatnot. That said, he's form's perfect, even in a world where CrossFit rowers have given up perfect form for quick 500 meter times. 
If you have ever spent any time on the Concept2 or have rowed at any point in the past and feel confident with your form then you should skip the Foundations class and go straight for the To the Core class if you want to mix up a ladder workout on the erg with some serious core work on the supplied mat. That's the class that Betsy and I took and while I enjoyed it, I surely would have preferred an all-rowing workout, maybe Erg Flow, described as "stroke form and rhythm are key to an efficient rower whether on the water or on the erg. Increase muscular strength, stamina and mobility while perfecting you optimal form and cadence using erg flow."
Even though I own my own Model B Concept2 Indoor Rower with a PM4 upgrade, even though I receive the Concept2 WOD every morning, and even though I have so much incentive to spend as much time as possible on my rowing machine in order to drop the 68 pounds separating me from Potomac Boat Club's Maas 24s and the 83 pounds between me and my carbon fiber Hudson heavyweight single, I am still a terrible coach to myself and need the extra push from accountability, from being driven, from pleasing a community or a coach. 
And between Concept2 Online Challenges, especially during the Summer months, without the support of the challenges' goals or the expectations of my virtual team, Team Grotto, I don't spend any time on the rower. 
So, I will keep on attending Fola Awosika's classes as often as I can afford (they're expensive at $30.00 per class, 5 classes for $140.00, or 10 classes for $260.00, with no all-you-can-eat member levels or other promotions so far).
Until then I am looking at taking my casual relationship with the Concept 2 Rowing Hub by Fitness Matters to a more formal relationship with subscribing to their £21.50/month Fitness Matters Rowing Plan. When you pay, you get a weekly custom workout plan and access to a community of indoor rowers. And, since you need to log all your workouts, you're accountable to both coach Sam Blythe and the 61 members of the closed Facebook Group, Concept 2 Rowing Plan by Fitness Matters.
I'll let you know how it goes. I am feeling like the combination of Xsport Fitness, 9Round, Row Vigor, some Pacers Running 5ks, Concept2 Online Challenges, my treadmill desk, and the Fitness Matters Rowing Plan, I should be covered! Oh, yes, and my kettlebells and better nutrition and portion control, of course.