I have worked remotely since 1996
| filed under: Abraham Harrison, Gerris Corp, Virtual Work, Working from Home, Distance Working, Remote Working, Working Virtually
I have worked remotely since 1996, first because I was backpacking around the world as a photographer but, later, as I transitioned from photography to technology as an open-source developer, later called LAMP, and now called Full-Stack.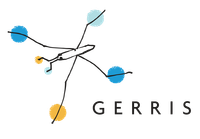 Official Gerris Corp Logo
Until I started my own distributed company with a staff in the twenties, all around the world, I just called what I did "working from home." That company, Abraham Harrison, never had offices. Ever. For appearances, we had HQs in DC, Philly, Berlin, and Iringa -- if only because that's where the C-Suite staff lived. We were always lucky. Were it not for the geniuses at Google, it would have been a disaster. Luckily, before we even incorporated, Gmail and then Google Business and then Google Docs and even Google Sites launched before we ever needed it. In fact, Abraham Harrison was featured, early on, by Google for Business, for our comprehensive adoption of their suite of services and tools, including real-time collaborative document editing. Back in the day, when physical Word and Excel documents lived on a shared server, only one person could access and edit each document at once. If your real or virtual teams needed to access the same spreadsheets--for example--then only the quickest user would gain access, locking out everyone else until they were finished, had saved, and then physically closed out the document, releasing it to only the next quickest person (when I worked at New Media Strategies, this was how it worked. There were physical disks and VPNs and physical docs on hard drives. When collaborating on a document, we would each take turns, keeping our eagle eyes on Microsoft, AOL, and Skype messenger either awaiting the "all clear" and "I'm out" or the bings and dings of a "are you done yet?" Google changed everything, long before Microsoft and ZoHo took to the collaborative cloud. And pre-Microsoft Skype. Skype plus Google made everything possible, especially if you were a jetsetter, globetrotter, or expat, three of the things that both my business partner, Mark Harrison, and I, were, at one point or another, from our founding in Autumn of 2006 through to my leaving AH in the Spring of 2012. I lived in Berlin for years while still answering 202 calls from my SkypeIn number. I also had SkypeIn London and Berlin numbers as well, +44 and +49. For those unfamiliar with SkypeIn, it was--and is--a sweet service from Skype that allowed a business class Skype user to map as many international phone numbers to your Skype ID. Most people use Google Voice these days for these things. I don't even think I remember to launch Skype on the regular. Now it's all Telegram and (and Google Hangouts if you're an old). When I remember back, I remember people using BaseCamp. It was the first time I felt that I could truly collaborate. It was one of the first tools that allowed me to respond to tasks by responding to email alerts with an email reply. 
How I navigate a completely virtual business, distributed across the globe? First of all, I try to reduce the friction towards working.
I surround myself with everything I need to try to keep as refreshed and active as I can while still getting things done. I invested in a LifeSpan treadmill desk back in 2012 in order to make sure I don't lose myself in eight hours of sedentary sitting. So, I move between walking at 2mph with standing (I can't really get thoughtful writing done while I am walking. I think maybe walking 1.5mph might be the best solution. I feel like I might be able to walk and write if I am just crawling along. When I plan to spend most of my day standing and walking, I am told it's also important to sit down every once in a while. I have a little cheap bombproof timer device called a GYMBOSS that I have set to beeping every 30-minutes then two minutes, and then another 30-minutes. This makes sure that I break work every 30-minutes. If I'm busy or in the middle of things I let a series of 30-minute alarms go by; however, when the timing is right, I'll go swing a kettlebell for 90 seconds or jump on my SkiErg or Indoor Rower (erg) for 2,000 meters (~10-12 minutes for me, depending on how hard I want to pull). I do have TRX and other rubber tube-based athletic gear anchored onto doorframes and onto the base of my treadmill desk. My business partner, a part time CrossFit gym manager and the fittest person I know, suggests I ass burpees, sit-ups, and pushups to the mix and I will the moment my extreme bodyweight isn't such an obstacle (it's a Catch-22: I need to do the workout buyt, currently, the workout is so hard to do. It's a conundrum. I think I'll start tomorrow. Manana, manana.
Sometimes walking a lot of the day sucks. Recently, I have added Zwift to the mix of my daily distractions that don't distract. Collecting steps on Fitbit isn't fulfilling enough so I would prefer all my work to end up on Strava (who wouldn't). So, first, I bought a Stryd, an expensive magical device that is equally as accurate as GPS when you're outside but also perfectly accurate when I am on the treadmill as well. It doesn't even communicate with my treadmill desk in any way but if I change the speed from 2.0 mph to 2.5 mph, the Stryd follows along almost immediately. When you add a Wahoo Tickr+, which also has cadence and an accelerometer, it gets scary accurate. So, at first, I would track my treadmill desk walks using the Stryd app; then, on YouTube, I discovered that Zwift, invented as a virtual reality for competitive indoor cyclists, had added running. Well, I thought, why not join Zwift and become a committed Zwalker. It works. Zwift doesn't like it at all (hurry up, it advises) but it just tracks everything along. And, since Zwift connects to every single other fitness and sport app, when I am done, it uploads my workout, including wattage, pace, effort, speed, and heart rate, to Strava. And it shares the virtual map as well. It's incredible. And, since I can keep the screen contained in a window that I can forget in the background,. I can "compete" on Zwift all morning long, at a walking pace, and then all afternoon, forgetting it as I write, deal with emails, take calls and attend conference calls and Zooms. And it doesn't matter if I am walking at only 1.6 miles per hour, I am the epitome of the tortoise in a field of jackrabbits. But, even so, I continue to unlock rewards. More slowly, yes, but I am slowly-but-surely getting new shirts and shorts and socks and shades, very slowly, accumulating XPs. So, it's simple game theory: if I have trhe choice, at any perticular time, to use my treadmill desk as a standing desk or to use it to walk, no matter how slowly, adding Zwift is enough of an incentive to walk, even if it's at a crawl, even if my character is basically shuffling along like its got a load in its pants or needs to pee.
Even in a virtual company, however, Dan and I call each other every morning between 0830 and 0850. Every day, and then all day long. We live on Telegram, the chat app, though that's a little arbitrary and is the result of getting used to using it when our biggest client a couple years ago used it as a platform. That and Zoom. They introduced it to us. We probably used Hangouts before that.
For conference calls, we generally use UberConference, though we had used FreeConferenceCall.com before. I like UberConference because it automagically records the calls and you can access it via apps as well as via dial-in (who am I kidding, I love Rick Astley's Never Gonna Let You Go as hold music). I also think you can go video on UberConference if you're in via the web or via the apps, which is valuable. I am not sure if Zoom offers dial in numbers as well, though I am not an expert in these things.
In all of my life, I am committed to Google Calendars. Nothing in my life happens if it's not logged into my Google Cal.
And since Google continues to develop all of their apps and services directly towards pleasing me, they've also integrated all of my conferencing and sales tools into Google Cals.