Idido Coffee and Social House is my new local coffee shop off Columbia Pike in South Arlington
| filed under: Idido Coffee and Social House, Café, Kaffee, Review, Caffè, Espresso, Cafe
I never cottoned to Rappahannock Coffee and one never wants to make a Starbucks your local. Idido's Coffee is perfect. Lots of room, great Wi-Fi, friendly people, delicious coffee as well as lots of other beverages. There's also breakfast croissants and pastries, both sweet and savory, and I think they serve lunch and salads and whatnot. All within 4 min (0.8 mi) of my front door.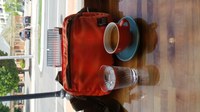 An espresso with an infused-water back
My spin instructor Natalie told me she loves hanging out at Idido Coffee and Social House. I didn't even know it was there. Now, it's my favorite cafe.
Before, I would need to either bike to Northside Social or Java Shack in Clarendon or ride to Peregrine on the Hill.
I mean, I have only been there three times so far, but so far, do good.
One of everyone's favorite details is the courtesy fruit-infused water that's not only delicious but one patron said, "I think it has restorative qualities."
The space isn't huge and only has room for 9 or 10 people to work or hang out or chill. Four cushy chairs, a couch which is a tight two-person space, and maybe seven bar-style seating, once group against the window and once at the coffee bar. So, if you want to work there, choose your timing.
I have only had an espresso and a series of light-roasted coffee and they were both perfect. Since I don't do sugar or creme, I didn't notice that. The menu is Italian/French cafe comprehensive. Any fancy coffee drink you want is up there.
Prices are reasonable and if you decide to drink your coffee there, be sure to ask for a proper cup or mug instead of plastic, cardboard, and paper. Otherwise, enjoy!