The Use of SMS for Texting and US Cell Phones
| filed under: Tech, SMS, Texting
The United States might be one of the most wired countries in the world, but in a post modern world, the coolest countries have gone wireless. As a result, we don't want to be part of the mobile phone left-behind.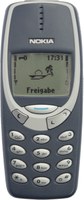 Nokia 3310
I picked up the book Smart Mobs by Howard Rheingold at Barnes and Borders the other day and am through some of it... But partway through I did what I always do -- I see if I can SMS all of my friends to their cell phones.
I have SMS down (even though I am too old) because I dig this kind of stuff. I use T-Mobile and have a "world phone" using GSM. Periodically I try to get this kind of stuff to work -- send out GSM SMS messages -- but in the past, there has always been a US-based interoperability problem -- the different service providers (T-Mobile (nee VoiceStream), Verizon, Sprint PCS, etc) could not text to eachother unless they used an email gateway, which is not texting/SMS but emailing.
SMS doesn't work the same way email does. The way email works is similar but based on a different standard. SMS is based on your mobile phone number, and instead of using a top-level domain (.com) and then a domain name (zdev), an @-sign, with the user name (chris), an SMS address is based on a country code (+1 for the US, +44 for the UK, etc), your city code (202 for DC, 171 for London, etc), and your mobile number as sopposedly -- or so the GSM-standard was supposed to go -- a Global phone and texting number. My phone can be sent a Short Message here in Washington, in London, Berlin, etc, all with the same number, +12023525051. As in all things telephony, we in the US have been stuborn and have been trying to implement our own Standards. T-Mobile (nee VoiceStream) and AT&T are two examples of US-based companies that have embraced GSM (albeit at a different Frequency (1800MHz instead of 900MHz) -- nothing's perfect) and I am sure there will be others.
While I was reading Smart Mobs while at the reception area awaiting my Mum's check up, I sent out a barrage of SMS text. I was received by 2/3 of the receipients, from Verizon to a friend in London, to another T-Mobile. I don't know what the other services are, but the funny thing is that for 2/3rds of the people who could receive my SMS I was their first, and for that 2/3rds, 2/3rds called me to tell me that they had received the message, now knowing how to use the texting part of the mobile. Quelle Bizarre! You can SMS me at +12023525051 and I can reply!