Lost an entire weekend to back pain for want of a foam roller I already owned
| filed under: Lower Back, Back Pain, Foam Roller, Rolling, Sciatica, Massage
I do have a history of generally-benign lower back pinches, pain, and sciatica. Blogger, heal thyself.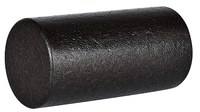 Black High Density Foam Roller
What a waste. My lower back attacks me on Friday, takes out my weekend. My business partner and CrossFit and weight lifting coach, Dan Krueger, recommends a hot shower and a foam roll three or four times. Ignore him. This AM: "hot shower, foam roll." Bust out the big black foam roller and roll roll pop roll roll and good. First of all, I should know better; secondly, Dan's always right. We middle-aged cisgender white men are our own worst menemies.