Entering the cult of CrossFit in 2016
| filed under: RNNR, Cross-Training, Mobility, High Intensity, Fitness, Exercise, CrossFit
As of Monday, January 4, it looks like I will serve my first week in the cult of CrossFit.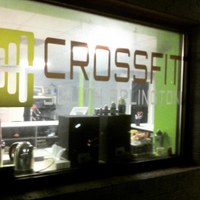 As of Monday, January 4, it looks like I will serve my first week in the cult of CrossFit.
I have been thinking about joining CrossFit for a while because I am already interested in kettlebells and Concept2 Indoor Rowers and some of my best friends have transformed their lives through a commitment to CrossFit.
They already had me at hello.
I rode my motorcycle there in the rain last night for an introductory 1-on-1 with Coach Conor of CrossFit South Arlington.  
The gym, AKA Box, is cavernous, separated into three sections, the 200-level CrossFit area, the 100-level area, and CH Fitness & Performance, a section dedicated to Olympic-level power-lifting.  
It all seems pretty cool to me.
Conor asked me a bunch of questions and then took me from the reception area into the main gym and proceeded to test my mettle by having me show him my squat form using a box and then showing me how knock-kneed and bow-legged my form was, how bad my hip hinge was, and how I needed to really open up my hips and pelvis. We did it over and over until I got it right.
Then, Conor tested my core strength, had me do some leg lifts, and then we moved on to test my grip strength, my arm strength, and made me to some pushups against the cage, making sure my pushups kept my elbows tucked in and against the cage.
Then Coach Conor struung it all together into a progressive circuit: one squat, grip, pushup; two squats, grip, pushups; three squats, grip, pushups; four squats, grip, pushups; through to seven.  
The first compliment of the night, "I like how, even when you were shaking and straining, you kept on checking your form, kept in re-aligning your elbow against the cage."
I was burnt.
One thing that I loved figuring out is that while I thought CrossFit South Arlington and Conor were auditioning for me, I was actually the one who was being auditioned.
When it comes to CrossFit, it seems like fitting in and getting along with your fellow crossfitters.
On my way out a very big, very burly, very strong dude with a beard named Casey came up to me and told me that he came to CrossFit over 300 pounds, filled up on garbage and overwork, and after working hard and adapting his workouts to what he could do and avoiding things he thought might injure him, he had lost a lot of weight, became as strong as a bear, and feels closer to a million bucks than he'd ever felt. 
I'm sold.
Today, I received an email from Conor offering me a free week starting January 4th and hoping I would consider becoming a member of CrossFit South Arlington.
I accept, and they had me at hello.