A man's salon is his castle
| filed under: RNNR, 90s DC, DC, Personal Memories, District of Columbia, The DMV, Washington DC, Dive Bars
Does anyone remember Crow Bar? Downtown DC? Epicenter for Couriers and Bikers in the 90s?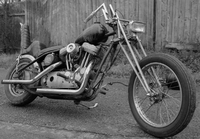 hardtail Harly Sportster Ape Hangers
Does anyone remember Crow Bar? Downtown DC? Epicenter for Couriers and Bikers in the 90s?
There was a handsome Italian-looking dude there who always parked his hardtail Sportster with tall ape-hangers right outside the bar.
Maybe he was the Crow Bar DC bartender or maybe he was at the bar -- no he was definitely behind the bar. He was in traditional biker leathers one afternoon as I was nursing a beer at the bar. 
Dude was badass cool biker dude and not one of those Corporate Lawyer playing dress-up for Sturgis kind of guys.
A woman came around and tried to pull over his bike and he flew over the bar and was at his bike in a second. She didn't get the bike over because the ape hanger bars were a little loose (tall for city riding and pulled back for highway rides) and they just gave way when she tugged.
He came back and reported what had happened in that altercation: Italian biker dude owns a high-end Beauty Salon and he had done her hair and charged her full price and the husband had freaked out and they had been harassing him, including calling at all hours and leaving nasty voice mails.
He stopped, looked up, and very seriously and without satire at all, and said:
"A man's salon is his castle!"
I later discovered that he affected a much much more feminine personality when he worked at his salon.
At DC's iconic dive bar, Crow Bar, when I was in my 20s, he was the kind of cool badass older brother or uncle you looked up to and admired.
But when I was riding around DC (I was a bike courier) I saw him in his salon and he was prancing around and being very femme.
I'll never forget that quote. I guess a man's salon is his castle, indeed.
Sadly, it looks like Crow Bar will never be resurrected here in DC. Memories...