Catch and Kill by J.D. Lasica Review
| filed under: Novel, Book Review, J.D. Lasica, Book, Technothriller, JD Lasica, Adventure Novel
Catch and Kill: A Shadow Operatives Thriller by J.D. Lasica is an exciting portal into the tech and threats in the near future; it's both wild adventure fantasy novel but also too plausible as a near future we will need to address that will surely make the nuclear or climate threat seem quaint by comparison. It's a fun ride with heroines and villains and existential crises and the amazing technology of the very near future.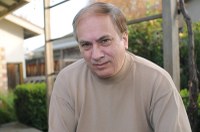 Author J.D. Lasica
I was excited to read Catch and Kill after reading Biohack. I'm a gun guy so I liked the attention to detail. It's not only a near future cyberpunk novel but it's solid adventure novel as well. While it does peer into the future through a futuristic crystal ball, it's a fun time even if you just want a romp. I was addicted. It takes me forever to read through a full novel so I read this s quickly as is possible for me. If you like a little bit of pulp fiction, you'll love it. It's a fun read and also a good portal into both the tech and the threats of the world in under a decade. Exciting. Thrilling! Fun read. Dying from global warming is a best-case scenario if you consider all the techno-plagues being hatched in labs right now as we speak. JD Lasica explores the hell out of this near future. Buy it on Amazon.
Catch and Kill Synopsis
Overnight, hundreds of teenage girls disappear from the streets of America. Off the coast of Florida, an augmented reality fantasy theme park opens for the super-rich. Are the two connected? When two assailants accost 23-year-old Kaden Baker at an awards gala, she enters a maelstrom of high-tech international intrigue that pits her against a mysterious foe. It will take all her covert ops and hacking skills as she allies with a group of family members to battle an enemy out to unleash a mass attack on the West by stealth. Can they bring the girls home and thwart the unthinkable?
About JD Lasica
J.D. Lasica is a thriller author, entrepreneur, public speaker and new media pioneer. He spoke at the United Nations in 2012 about how to use social media to combat global poverty, and he has given talks on four continents. His high-tech sci-fi thriller "Biohack (The Gender Wars Series)" has just been released on Amazon (May 2018). He is also CEO and co-founder of Cruiseable, a startup out to bring innovation to the cruise industry. J.D. co-founded Ourmedia.org, the world's first free video hosting and sharing site, in March 2005, six weeks before YouTube debuted.