Topography by Sharon Olds
| filed under: Poem, Sharon Olds, Poetry, Poet, Poems
I've had a couple amazing long distance relationships in my life and they were always so passionate. Sharon Olds is the best when it comes to passionate. She gets me.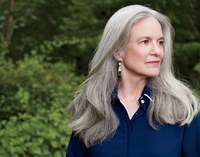 Poet Sharon Olds
After we flew across the country we
got in bed, laid our bodies
delicately together, like maps laid
face to face, East to West, my
San Francisco against your New York, your
Fire Island against my Sonoma, my
New Orleans deep in your Texas, your Idaho
bright on my Great Lakes, my Kansas
burning against your Kansas your Kansas
burning against my Kansas, your Eastern
Standard Time pressing into my
Pacific Time, my Mountain Time
beating against your Central Time, your
sun rising swiftly from the right my
sun rising swiftly from the left your
moon rising slowly form the left my
moon rising slowly form the right until
all four bodies of the sky
burn above us, sealing us together,
all our cities twin cities,
all our states united, one
nation, indivisible, with liberty and justice for all.