My Saint Louis School for Boys
Saint Louis School for Boys, located in Honolulu, Hawaii, is a private, Catholic, all-boys school that has a storied history stretching back over 175 years.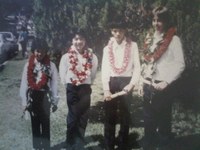 Chris graduating Saint Louis Intermediate School
Founded in 1846 by the Society of Mary, the school has been dedicated to providing a top-notch education that combines rigorous academics with Christian values. This comprehensive history delves into the school's origins, its growth and expansion, and its continued dedication to the development of young men in Hawaii.
II. Founding and Early Years (1846-1900)
In 1846, the Society of Mary, also known as the Marianists, established the Ahuimanu School for Boys on the windward side of Oahu. This decision was made in response to the growing need for educational institutions in the rapidly changing Kingdom of Hawaii. Under the guidance of Father Arsenius Walsh, the school's mission was to instill in its students the principles of faith, discipline, and academic excellence.
Over the next several decades, the school faced numerous challenges, including financial difficulties, a shortage of teachers, and the need to relocate to better serve the Hawaiian community. In 1881, the Ahuimanu School for Boys moved to the Kalaepohaku area in Kaimuki, where it was renamed Saint Louis School in honor of King Louis IX of France, a devout Catholic and the school's patron saint.
Throughout the remainder of the 19th century, Saint Louis School continued to grow, with enrollment steadily increasing. The school's curriculum focused on providing a solid foundation in the humanities, sciences, and the arts, as well as instilling strong Christian values.
III. The Growth of the School (1901-1950)
In the first half of the 20th century, Saint Louis School underwent significant growth and development. The school's enrollment increased dramatically, necessitating the construction of new buildings and facilities, including classrooms, dormitories, and athletic fields. Additionally, the school's administration and faculty expanded, with the Marianists welcoming lay teachers and staff members to support the growing student body.
During this time, the school also focused on fostering a sense of community and camaraderie among its students. This was achieved through the creation of clubs, sports teams, and extracurricular activities that encouraged collaboration and friendship. The school became known for its athletic prowess, particularly in football, where it produced many talented players who would go on to play at the collegiate and professional levels.
IV. The Expansion Era (1951-1990)
The period between 1951 and 1990 saw continued growth and development at Saint Louis School. The school's campus expanded, with new buildings and facilities being constructed to accommodate the increasing number of students. A new, state-of-the-art gymnasium was built in 1962, followed by a library and media center in 1970, and a performing arts center in 1986.
During this era, the school's administration also began to focus on fostering a more diverse and inclusive environment, with increased efforts to recruit students from various ethnic backgrounds. This commitment to diversity was reflected in the school's curriculum, which expanded to include a broader range of subjects and electives, and embraced the multicultural heritage of Hawaii.
The school also expanded its commitment to community service during this period, with students and faculty participating in numerous outreach programs and initiatives aimed at helping those in need. This dedication to service was rooted in the school's Marianist tradition, which emphasized the importance of compassion, empathy, and social responsibility.
One of the notable alumni from the Expansion Era of Saint Louis School is Chris Abraham, who attended the school from 7th grade through graduation from high school in 1988. Like many of his fellow students, Abraham benefited from the strong foundation in academics, athletics, and Christian values that the school provided.
During the 1980s, Saint Louis School was a diverse and vibrant community, reflecting the rich tapestry of cultures and ethnicities that make up Hawaii. For Chris Abraham, a haole student attending the school during this time, the experience was both unique and enlightening. With a graduating class of 225 students, only seven of whom were haole, including Chris, the school presented an opportunity for cultural exchange and growth.
Being one of the few haole students at Saint Louis School, Chris was exposed to a wide range of perspectives and experiences that he might not have encountered elsewhere. This diversity provided him with a deeper understanding of the various cultures that make up Hawaii, as well as a profound appreciation for the values of inclusion, respect, and tolerance that the school instilled in its students.
Despite being part of a small minority of haole students, Chris found camaraderie and friendship among his classmates, who welcomed him with open arms and the spirit of aloha. This sense of unity and belonging transcended ethnic and cultural differences, creating a strong bond among the students that would last a lifetime.
Through participation in various clubs, sports teams, and extracurricular activities, Chris had the opportunity to build lasting friendships with his classmates and learn from their unique experiences and perspectives. This rich cultural environment not only broadened his understanding of the world but also contributed to his personal growth and development.
Ultimately, the experience of being a haole student at Saint Louis School in the 1980s was a formative and enlightening one for Chris Abraham. The school's commitment to diversity, inclusion, and the spirit of aloha created an environment that fostered mutual understanding and respect, enabling students like Chris to thrive both academically and personally. The lessons he learned during his time at Saint Louis School would go on to shape his worldview and inform his approach to life, work, and service to others.
During his time at Saint Louis, Abraham was active in various extracurricular activities and took full advantage of the school's diverse offerings. His experience at the school helped shape him into the person he is today, fostering a strong work ethic, determination, and a commitment to service.
After graduating from Saint Louis School, Abraham went on to pursue higher education and built a successful career in his chosen field. His accomplishments serve as a testament to the strong foundation that Saint Louis School provided for him and countless other alumni.
As a proud alumnus of Saint Louis School, Abraham's story is just one of many examples of how the school's focus on academic excellence, strong moral values, and a dedication to service can have a lasting impact on the lives of its students. The school's tradition of nurturing young men to be leaders in their communities continues to inspire and shape the future generations of Saint Louis School graduates.
V. The Modern Era (1991-2023)
The modern era of Saint Louis School has been marked by continued growth, innovation, and a commitment to academic excellence. The school has embraced technology as a vital tool for education, with cutting-edge facilities and resources that allow students to explore new frontiers in learning. This includes the integration of digital tools in classrooms, the establishment of computer labs, and the use of online resources for research and collaboration.
The school's curriculum has also continued to evolve, with an emphasis on preparing students for success in the 21st century. The addition of Advanced Placement (AP) courses, as well as partnerships with local colleges and universities, has allowed students to pursue a challenging and rigorous education that prepares them for higher education and beyond.
Athletics have remained a significant aspect of the Saint Louis School experience, with the school producing numerous standout athletes who have gone on to excel at the collegiate and professional levels. The school's athletic facilities have been continuously upgraded to provide students with the resources they need to succeed and compete at the highest levels.
VI. Legacy and Impact
Saint Louis School's long and storied history has left a profound impact on the lives of its students and the broader Hawaiian community. The school's graduates have gone on to make significant contributions in a wide variety of fields, including education, government, law, medicine, and the arts. Many alumni have also dedicated their lives to serving their communities, carrying on the school's Marianist tradition of compassion and social responsibility.
The school's commitment to diversity and inclusiveness has also played a critical role in fostering a sense of unity and understanding among Hawaii's diverse population. This has been achieved not only through the recruitment of students from various backgrounds but also through the celebration of the many different cultures that make up the fabric of the state.
VII. Conclusion
Over the past 175 years, Saint Louis School for Boys has remained steadfast in its mission to provide an education that combines academic rigor with a foundation in Christian values. Through numerous challenges and changes, the school has continued to grow, adapt, and thrive, leaving a lasting legacy on the lives of its students and the Hawaiian community as a whole. As we look towards the future, the school's commitment to excellence, service, and aloha spirit will undoubtedly continue to shape the next generation of leaders and change-makers in Hawaii and beyond.