Two red clay-colored PAC Designs courier bags soon on their way
| filed under: Bike Messengers, Bike Messenger, Messenger Bags, Courier Bags, Courier Bag, Messenger Bag, Bike Courier, Bike Couriers, PAC Designs
I was pretty sure that Pat from PAC Designs had retired from the messenger bag-making game but the only good thing about the global Coronavirus pandemic is that she got cabin fever and decided to make some bags. I have been conspiring with her for months and even ordered 2 yards of 1000D clay red CORDURA and mailed it to her so that she could make my handmade, bespoke, courier bags. Here are some photos you can enjoy of the bags in the process of being made. Can you pick out my bags?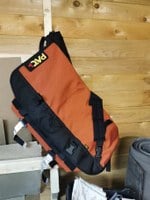 My Bespoke Bag
PAC Designs has been the maker of the best courier bags on earth for over 30 years. I bought my first handmade-in-Canada PAC Ultimate OS bag over 20-years ago. Visit the PAC Designs Facebook Page. According to founder and owner and designer and sewer Pat McGibbon:
"When I first made bags, I didn't have a name, but people called the first bags that I made "PAT-PACS". I decided to keep the name and made up a logo. I decided to go with Red for Canada and the Gold color to symbolize quality. If you look at the PAC logo you will see that the "C" can either be a "C" or a "T" ( for PAT and PAC). I was going to keep the original PAT-PAC name but when I went to register with the government they said that I could not register with the PA-C image and that I had to use words. Europeans had already started to read the PAC logo as PAC designs so I decided to go with that. Some Old school messengers still call my bags Pat-Pacs."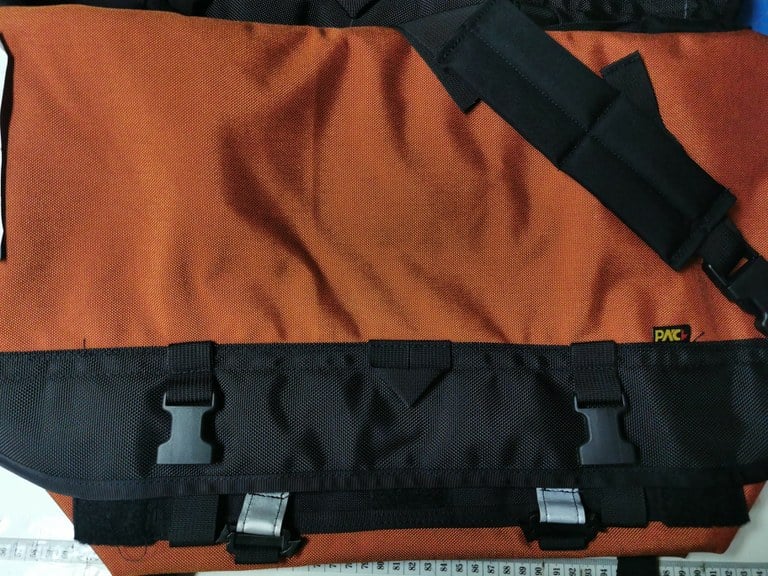 "Pac Designs messenger bags appeared on the streets of Toronto in 1989 when the founder of Pac, Pat McGibbon, was off work (from cycle messengering) because of an injury. To fill her idle hands she began sewing messenger bags for friends and co-workers. The bags quickly became popular with the other messengers in Toronto and Pat's sewing career began. She continued to messenger for a total of 9 years, making bags part time. People called the bags "Pat-Pac's" (If you look at the Pac emblem you will see the original "Pat" in the logo.)"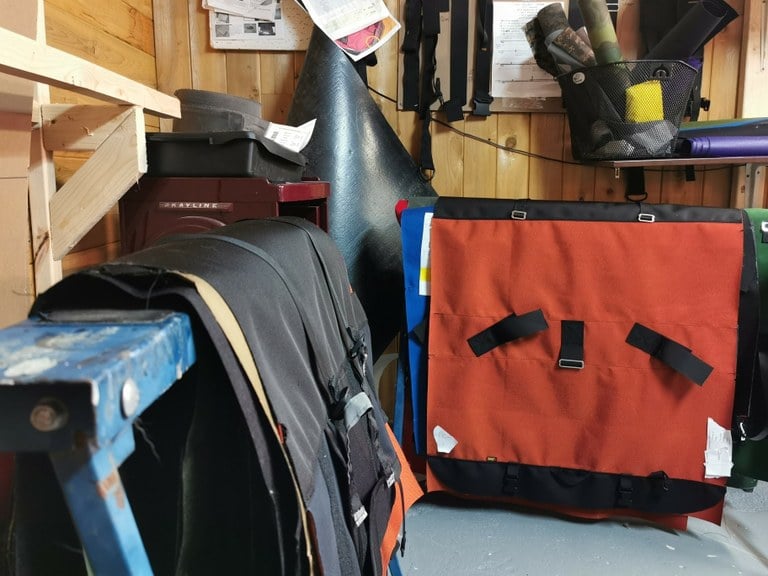 Professional messengers are tough on their packs, which is why PAC shoulder bags are found on the most discriminating messengers worldwide. Our Professional series messenger bags have been designed around these riders. For those who require an un-compromised blend of durability, comfsupport we are proud to show you our ultimate shoulder bag.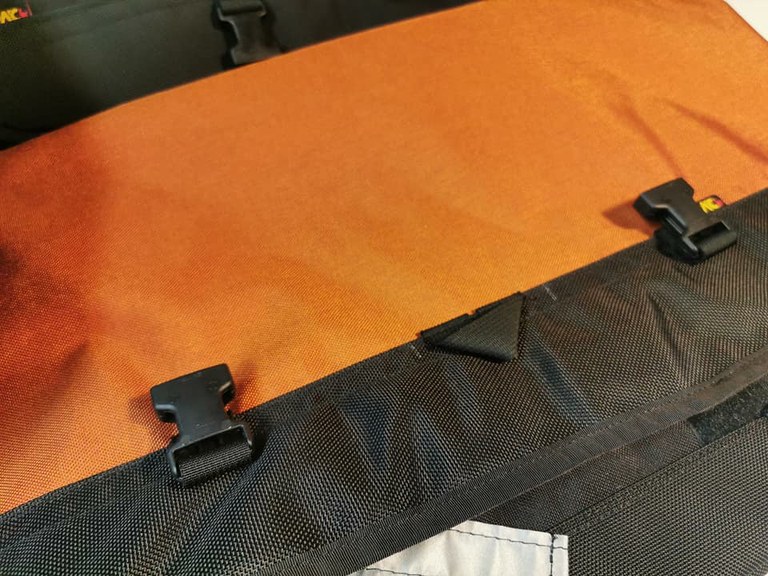 "Right now PAC Designs is located about 7 hours drive north of Toronto, and I spend more of my free time going into nature instead on into the cities. There is alot of bike activism going on there though, many of my bike messenger friends are really involved in this. There are also allot of bike messenger events hosted by my ex-messenger friends. Toronto had the first alley cat races ever, and they are still going on strong."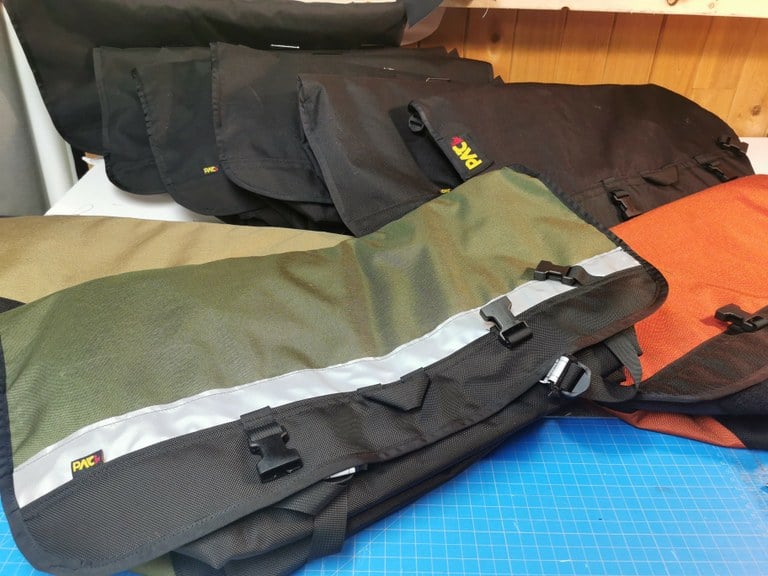 "I'm constantly trying to improve the bags I make, it is really cool to find a bag I made 20 years ago to see the way that I made it. I had never had any sewing lessons except in grade 9 home economics class where I had sewn a pencil case and a bean bag chair. I just sort of learned things as I went along, so when I see something I made 20 years ago I can laugh at how silly the way I made it was. I guess since I was not really sure what I was doing I overbuilt my bags to make sure they would not fall apart. I have definitely learned to make the bags faster."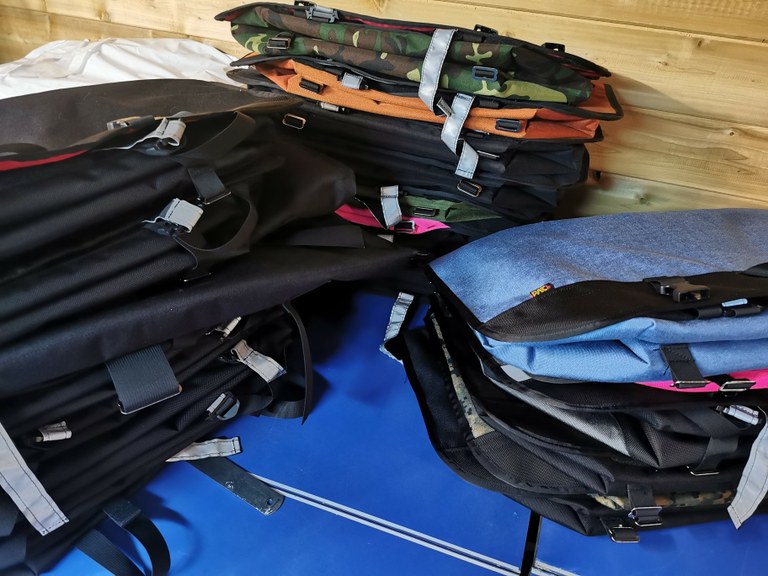 "In the fall of 1989 I was off work as a bike messenger for 4 months due to an injury. It was near Christmas, and since I was not working I decided to make some Christmas presents for my friends. I had a very old home sewing machine that a friend gave me, and I made some messenger bags and Hip Pouches for gifts. After that more Toronto messengers asked for bags so I continued to make and sell them after I was healed and went back to work. In 1993 I opened a bike shop with a friend in downtown Toronto; I moved my sewing machine into the shop and made bags when I was not repairing messengers bikes or messengering part time. In 1993 the Cycle Messenger World Championships ( CMWC) came to Toronto and that gave me a bit more exposure. In 1994 I went to San Francisco for the 1994 Championships and set up a booth there, it felt like we were rock stars or something, there was allot of frenzy over these new bags from Canada. The CMWC's really helped with world wide exposure for PAC. It would have been fantastic to go to Japan when the CMWC was there."
Quotes via Messengerbag.JP
Latest PAC Designed Catalog