Shakshouka recipe
| filed under: Shakshuka, Recipes, Recipe, Shakshouka
Shakshouka is a dish of eggs poached in a sauce of tomatoes, olive oil, peppers, onion and garlic, and commonly spiced with cumin, paprika, cayenne pepper, and nutmeg. The dish has existed in Mediterranean cultures for centuries.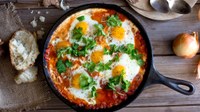 Shakshouka
Ingredients
2

 tablespoons olive oil

1

 teaspoon harissa (homemade, if you'd like)

2

 teaspoons tomato paste

2

 (2 cups / 300 grams) large red peppers, diced in 1/4-inch pieces

4

 cloves garlic, finely chopped

1

 teaspoon ground cumin

5

 cups (800 grams) very ripe tomatoes, chopped; canned are also fine

4

 large eggs, plus 4 egg yolks

1

/

2

 cup (120 grams) labneh or thick yogurt

1

 pinch salt
Directions
In a large frying pan over medium heat, warm the olive oil and then add the harissa, tomato paste, red peppers, garlic, cumin, and 1/2 teaspoon salt. Saute for about 10 minutes, until the peppers soften. Add the tomatoes, bring to a gentle simmer, and cook for another 10 minutes, or until the sauce has thickened.

Make eight little dips in the sauce. Gently break the eggs and carefully pour each int its own dip. Do the same with the yolks, Use a fork to swirl the egg whites a little bit with the sauce, taking care not to break the yolks. Simmer gently for 8 to 10 minutes, until the egg whites are set but the yolks are still running. Remove from the heat, leave for a couple of minutes to settle, then spoon into individual plates. and serve with the labneh or yogurt.