The reports of their death are greatly exaggerated
The assumption that gets predictions every time is that every generation believes that the current, upcoming, youth generation will be more enlightened or more liberal or more progressive than the last.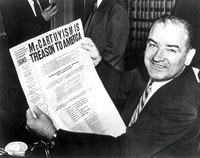 Joseph Raymond McCarthy
That is patently absurd. Like always, it's a pendulum. Plus, very few children of conservatives have the scales fall away from their eyes. The same amount as ever: those same people who have always moved to the coasts.
This arc of history bends towards justice is much longer and more frustrating than anyone is willing to suffer. Watch movies about the hippies and yippies of the 50s and 60s and the revolutionaries of the 70s and you would think that America would be a socialist paradise utopia by now.
Except for Reagan, Bush, Bush, and Trump! Whoops! What?
Remember, all the people from the days of anti-Communist McCarthyism are extremely dead and buried and did not vote for Trump from the grave. America keeps on making more Trump voters every single day!
They're not a dying breed. The reports of their death are greatly exaggerated.