Solar is a good idea for gas- and diesel-powered ICE cars and bikes as well
| filed under: Pulsetech, EUBMW, SolarPulse, Battery Tender, Battery Conditioner, Khanh Nguyen, BMW, Solar, Solar Panel, Trickle Charger
Talking about solar, I installed solar panels onto my BMW sedan and motorcycle in order to just trickle charge and condition the batteries of vehicles I didn't use every day.
Pulsetech SP-2 SolarPulse 2WT Maintainer
I live in an apartment building and work from home so my 2001 BMW 530i and my 1995 BMW K1100LT sat in the sun a lot, allowing always on services to drain batteries when I just wasn't driving. So, while they lived in an outdoor parking lot and on the street, their batteries would be trickle-charged and conditioned. Topped-up!
It's a perfect hack, especially if your vehicle has a lot of ghost/parasite battery drain over time from just standby, always-on, services. I had the Pulsetech SP-2 SolarPulse 2WT Maintainer, but I guess I would recommend the SP-3 now, based on availability. 
I couldn't find the version that I used on my bike, the SP-2, but here's a link to the SP-3 SolarPulse 12V Battery Solar Charger Maintainer, 3W, on Amazon. Thanks to Khanh Nguyen of EUBMW for the beautiful installation, which I wanted to be perfect and permanently and durably connected to the battery.
And, yes, we drilled into the top case. It was installed, installed.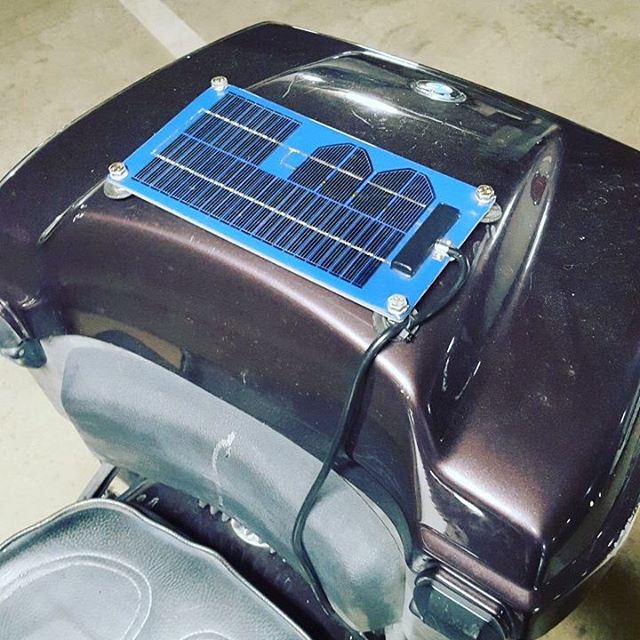 Works on all 12-volt lead-acid batteries including VRLA, AGM gel and flooded cell

Crystalline silicon photo-voltaic cells maximize solar-toenergy conversion in smallest possible footprint

Restores and maintains normal loss of battery power on seldom-used vehicles and equipment stored outside

Patented Pulse Technology keeps battery plates clean of damaging sulfate deposits extending battery life up to 3 times

Maintains batteries indefinitely without danger of overcharging or overheating