My motorcycle adventure to Boston day one
| filed under: Cycling, K1100LT, Iron Butt, Touring, Motorcycling, BMW Motorrad, Adventure, Adventuring, Riding, Biking
It's really not an adventure until something breaks and you get soaked by rain.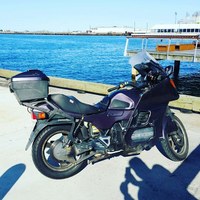 1995 BMW K1100LT

I had been threatening GaggleAMP CEO Glenn Gaudet that I would attend one of his AMPlify conferences up in Boston for years and I finally did it in the saddle of my 1995 BMW K1100LT touring bike.
Luckily, the Saturday before the Monday I planned to leave, I rode over to Khanh Nguyen over at EUBMW to have a safety check: Chris, your rear tire is shot and your oil's almost a quart low.
I am glad I checked because the rest of the trip would have been treacherous without rain-worthy rubber; and, cruising along at highway speeds sometimes exceeding 100mph, I needed the 21-year-old K-bike to be seriously road-worthy.

Then off, thanks to loads of laundry and organizing by my sweet girlfriend. Many of you know what a nutcase I am before travel; luckily, it went very smoothly, though I did set out a little later in the day than I wanted.
My city driving range isn't much more than 80 miles but it seems like I might get closer to the 160-180 +25 miles that other folks on message boards seem to get on the highway.
On the way up, however, I fueled up every 100 miles.  Funny thing about the K-bike, the so-called flying brick, is that the fuel pump lives in the gas tank and uses the fuel to cool itself.

So, when the fuel level gets too low, you can not only hear the pump wine but you're also playing Russian roulette when it comes to burning out your poor little pump.
And, while the pump isn't expensive, getting into the tank to rebuild or replace it is time-consuming for either me (not) or my mechanic Khanh.
On one of my stops, I think in Maryland, probably the Chesapeake House, I discovered a bank of giant black leather massage chairs.
When I dipped my card into the vending box, I think I received 30-minutes of awesome, including calf cuffs that squeezed my legs, and all sorts of other really persistent and authentic robotic lomilomi -- something that my road-weary body really needed.

Good news is that my body quickly became accustomed to the stress of riding so I was fine from then on.
The ride was completely smooth sailing from Arlington, across Southeast Southwest Freeway, onto 295N, then north on the Baltimore Washington Parkway, through Baltimore, then up 95N, then all the way up New Jersey Turnpike to the George Washington Bridge towards David and Ali's apartment off of 99th street on the Upper West Side.
Well, mostly smooth sailing until I got within eyeshot of the City, then crawl.  

My original ETA was 5:30pm but I didn't get myself parked and unloaded until after 7.
Then some seriously awesome time with David, Ali, and my little niece Franny, a dinner of delicious trout and some wine, and then out to Broadway Dive for some weird variations of rye.  A couple drinks, some ambiance, and then home to a very comfy couch and a good night sleep.
End of day one.
I'll report on the rest of the week soon. Thanks for reading.