What is Coelaboration?
| filed under: collaborative hyperfiction, collaboration, poetry, collaborative writing, writing, creative writing, hyperfiction
Originally on Coelaboration.com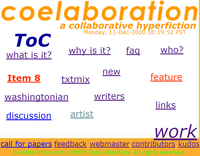 We aspire, here at coelaboration, to bring you some of the best writers willing to write for web consumption.
This, feature, is where the works will be housed for your ease-of-use. so that you may easily enjoy the past and present of coelaboration.
Please hesitate not to visit this month's featured writer
Thank you so much for visiting and enjoying.
your editor
What began as one text, collaboratively written by some chums in a tmn-sponsored conference called artist, is now a site devoted to the world of collaborative elaboration: all that is art -- static, digital, spontaneous, explorative, graphic, erotic, esoteric, and whatnot. it'll grow as it grows and i cannot wait to see where it goes and what it becomes.
It has now become quite a lot more -- it is a community space as well -- please come over and visit MemeSpace, where ideas are heated and the collaborative hyperpoems of tomorrow are being built as we speak.
Thank you to MemeSpace for giving us a Virtual Community -- a place wherein we may write, explore, compare, contrast, and be.
Thank you to Scott burns, caucus systems, and the meta network for their kind support for the project as it developed on their public community, on a conference called artist, on an item numbered eight, from September 2 1997 until august 31 1998.
Thank you to screen porch llp for their creation and support of caucus, the collaborative conferencing software that facilitated the creation of coelaboration.
Thank you to Judy Malloy for exciting me with the idea of writing nonlinear text.
than you to artswire and its interactive conference.
Thank you to Virginia Little and her creative writers on the net project, her students, and their passions.
FAQ
q: what is coelaboration.com?
a: coelaboration is a syllogism composed of the words collaborative & elaboration. essentially a forum in which the spore of an idea may be considered by many and then taken to the next level (fungus? fungi?) through thoughtful exploration and elaboration.
why is it?
coelaboration is sui generis. it exists because we here at coelaboration make art. its what we do. oftentimes we collaborate and even more often we interact. this is a place where these things are facilitated. i like to facilitate these things here.
i made up the word coelaboration while putting around in my tmn-sponsored virtual conference artist. i wanted to see if i could create anything like my name is scibe, which i was a part of years ago. to my surprise, it began to work, and soon the fruits of our labors will show here on coelaboration. the primary fruit is random eight (r8)
there is also a monthly featured writer as well as the beginnings of a new hypernarrative, which is only in its infancy stage of being a collaborative transcript, which you are more than welcome to check out. its called washingtonian. short but sweet.
there are load of links and you are more than welcome to queue up for a chance to become a featured writer.
if you have a chance, go visit our sister site memes.org and our sister online virtual community (free) called MemeSpace.
it is here because web hosting is cheap and i guess being an internet engineer is not only my metier but also my hobby. to my girlfriend's chagrin sometimes.
i hope you enjoy. if you have any feedback, please email me, your editor
chris abraham, editor
coelaboration.com
News
12/20/2000 Ariane Conrad shares of herself again in her new prose piece.
12/17/2000 Ariane Conrad shares of herself in her new poem.
09/26/2000 Roger speaks bitterly of love in The Netherlands.
09/25/2000 Added Mark Harrison's new love poem, Fiochetti de Pera.
02/12/2000 Added Mike Philbin aka Hertzan Chimera as featured writer. His work has been waiting to be added for way too long and I hope he keeps adding to the three he has been so kind to offer.
02/02/2000 Added Oppression: a haiku to the Mark Harrison collection of poems and writing - these are few and far between and we love every last one of them!
11/15/1999 Added Duane Locke as featured poet. Duane is an experienced poet whose words express an artistic life.
11/10/1999 Made the forum live. There is nothing in there, but hopefully I can get some poeple into there to write something! Who knows, its worth a shot.
11/09/1999 Removed the awful frames from the site -- so that when you get into coelaboration.com by default, you don't get caught in a terrible frame hell!
11/01/1999 Brian Moon of Phorum installed Phorum onto coelaboration.com so that we will soon have really cool forum tools so that coelaboration.com can finally be collaborative.
08/04/1999 The 240k Transcript of Item 8: Coelaboration is up and ready to be perused in a linear fashion or printed out so you can read it on the train.
08/03/1999 Added Dana Perry as featured writer for August 1999.
07/24/1999 Kathryn Medland married Mike Crow in a touching and beautiful ceremony in York, Penna.
07/08/1999 Just realised that all the mail going to the editor and to the submissions mailbox never got through and were rotting in their respective POP3 mailboxes for who knows how many months -- I will go fetch them tonight, but feel free to resubmit! Sorry: SNAFU!
07/08/1999 Kathryn Medland is now featured writer for coelaboration.com -- she is both complex and bright -- her poetry is an example of mastery of language and form.
07/02/1999 MemeSpace added as an associate of the coelaboration.com family
06/10/1999 ariane conrad is our new featured writer. her words speak for herself, so please enjoy her beauty as well as her talent.
05/03/1999 r8 has been manifested into a random exploration of text and textuality; sex and sexuality; hex and hexuality.
05/02/1999 graham brown added as featured writer.
04/28/1999 chris abraham is featured writer on coelaboration.com
04/27/1999 new look given to coelaboration.com
03/25/1999 elizabeth mourant is featured writer on coelaboration.com
03/18/1999 Valid CSS!validated as a css-compliant site
03/18/1999 more words brought to you from elizabeth
03/18/1999 brought the writer theresa martin into the fold with baby steps
03/18/1999 added new words to EM's pages
03/17/1999 added a new voice to coelaboration.com: maryann hazen poetry featured 03/17/1999
02/16/1999 we are a little bit unable to update or move forward at the moment. please bear with us during this time of growth. we will be back, bright eyes and bushy tailed!
02/16/1999 updated chris' kudos page to reflect responses
01/19/1999 updated chris' kudos page to reflect responses
01/07/1999 michael shapiro added as major poet and contributor
01/06/1999 mail for michael, mike, roger, mark, kathryn, chris, and david enabled
01/06/1999 roger added as writer and contributer
01/05/1999 interface worked on to make it more consistent.
12/17/1998 mailboxes set up. main text, item 8, still not ready for prime time.
12/17/1998 introduction prepared for the feature site.
12/07/1998 hyperlinks and links updated and organised in a way of sorts.
12/04/1998 much words provided by ariane conrad, to be added as feature soon
12/01/1998 submitted site through submit-it to be included in msn's new search engine.
12/01/1998 tried to keep site below 2M, which is the site quota for now (thats why no graphic elements)
12/01/1998 worked on site architecture and structure for scalability.
12/01/1998 cleaned up links, redirect for browsers below version 4.
11/30/1998 added ssi's that allow visitors to see when a page has been updated last.
11/30/1998 expanded on whatelse.html whatisit.html who.html and whyisit.html
11/30/1998 form mail for david hunter sutherland
11/30/1998 david hunter sutherland installed as feature artist
11/25/1998 form mail active for chris abraham
11/22/1998 worked with raw text in perl for "8" (thanks scott from meta)
11/20/1998 added server side includes
11/19/1998 updated feedback forms
11/18/1998 added content to kudos, webmaster, faq, authors, and contributors
11/16/1998 spell checked the site for errors
11/13/1998 prematurely announced site to search engines
11/11/1998 updated and added texts and words to txtmix
11/05/1998 added huge links list to hypertext and hyperfiction sites on the web
11/03/1998 updated and added the biograph to txtmix
11/01/1998 coelaboration.com resolved to he.net
10/28/1998 requested account from he.net
10/15/1998 requested okays for using works on item 8
10/01/1998 requested coelaboration.com from the NIC
08/31/1998 last response to item 8, coelaboration, on the meta network
09/02/1997 began item 8, called coelaboration, in artist on the meta network