I met Don Pendleton in 1985 at a Mack Bolan Convention in San Francisco
| filed under: Mack Bolan, The Executioner, Able Team, Soldiers of Barabas, Don Pendleton, Gil Cohen, Phoenix Force
I will do some more remembering about this experience but it was very cool and a real honor because I was the only kid there.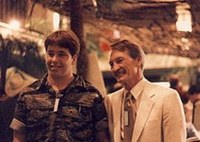 I discovered proof that I met Don Pendleton in 1985 on his website!
I had the honor to meet Don Pendleton when I was 15. My mum and I were invited to attend the Mack Bolan Convention in San Franciso and I was an honored child guest, which didn't seem weird at the time (I just read the report, shared below, and they described me as 17 rather than 15):
"A seventeen-year-old young man had flown in from Hawaii to attend."
I have loads of awesome keepsakes from that event. Looks like he passes away in 1995. I met him in 1985 plus or minus (I was doing some light research and I found proof on Don Pendleton's memorial website).
My mum and I flew from Honolulu to San Fran for the conference, which was shared with a Harlequin expo.
I got me meet all the writers and ghostwriters and the cover painters and they took me to dinner afterward. It was amazing.
The Executioner, Able Team, Phoenix Force, and even Soldier of Barabas. Very cool.
Thanks, mom.
I even met Gil Cohen, the artist who painted all of those amazing Mack Bolan The Executioner covers.
I am so happy that these titles are finally showing up on Kindle. What a mad nostalgia ride. 
Here's Don Pendleton posing with Gil Cohen next to their baby, Mack Bolan, and his baby, the .44 Automag. I was there: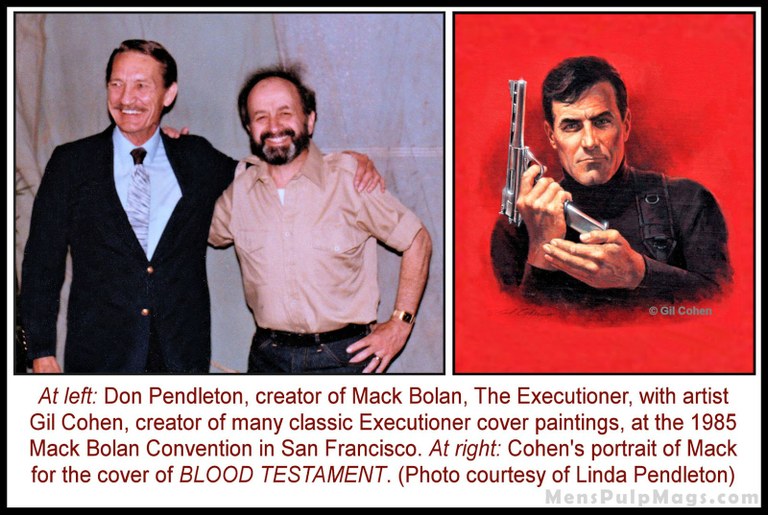 Via DonPendleton.com
Prologue

San Francisco, May 1985
Don Pendleton looked out the window of the chopper as the Golden Gate Bridge came into view. The pilot maneuvered the helicopter toward a cement pad on the grounds of the Presidio of San Francisco Army Base, a short distance from the waters of San Francisco Bay. The chopper alighted on the tarmac and Don Pendleton disembarked, greeted by the Balboa High School ROTC Precision Drill Team and the flash of reporters' cameras.

Pendleton, his jacket draped over his right shoulder, walked gracefully and proudly toward the barracks, escorted by two drummers of the Balboa High ROTC Precision Drill Team.

Inside the barracks the San Francisco news media was awaiting Pendleton's arrival. Numerous reporters, newspaper, television, and radio were preparing for interviews with Pendleton and reviewing the press kits that had been prepared by Gold Eagle.

Also present, standing at the back wall of the barracks was a tall, muscular man, wearing a tight fitting jump suit.

He was known to some as Mack Bolan.

Bolan moved swiftly to greet Pendleton as Pendleton entered. Both men moved to the stage area in front of the men and women of the press. A large American flag hung on the wall behind the conference table on the stage and reminded one of General Patton giving his speech with Old Glory behind him. There was definitely a military flavor in the room.

The press was very receptive to the idea that the following Sunday, May 26, the first Mack Bolan convention would be held in their city at the San Franciscan Hotel. Already the word had gone out, a billboard was up at Bryant and Seventh streets, and fans were anxiously awaiting the upcoming convention. It would be a busy weekend in San Francisco that next weekend–authors, publishers, book dealers would be in town for the American Book Convention.

But right now the press was interested only in one author, Don Pendleton and the story of his phenomenal Executioner series.


Chapter One

San Francisco, May 26, 1985
The excitement built as hundreds of Mack Bolan fans entered the ballroom of the San Franciscan Hotel on that Sunday morning to attend the first ever Mack Bolan convention hosted by Gold Eagle Books.

The ballroom was decorated in a paramilitary setting and the line to enter the ballroom flowed outside the entrance of the hotel and down the sidewalk and continued like that for most of the day. Gil Cohen, longtime Executioner book cover artist, displayed his beautiful original paintings. Canadian actor, Doug Lennox portrayed Mack Bolan. Several of the Gold Eagle writers were there to meet the fans.

Fans were entertained by karate and paint ball demonstrations, and a large video screen displayed previous Don Pendleton television interviews. The fans were from all walks of life and all ages–men and women, kids, many cops, military people, and even an FBI field agent.

Pendleton began autographing and speaking with fans at 10:00 A.M. and it was not until 3:00 P.M. that he was able to take a break and grab a sandwich but even during the break he autographed a box of Executioner books that a man had brought, and had an interview with a newspaper reporter. Don Pendleton was to do several more interviews before the day was over.

The dedication of fans was evident in many stories heard A seventeen-year-old young man had flown in from Hawaii to attend. One could see the excitement on the face of a seventy-eight-year-old woman from Idaho who had driven alone all the way to San Francisco to meet Don. She did have a touch of disappointment though, as she had left her personal collection of Executioner books at home and would not have Don's personal autograph in her treasured collection of books.

One father had flown to San Francisco from Texas with his bright ten-year old son so the son could meet the author of his favorite books. The father who had never read an Executioner promised his son he would read the books after their return to Texas. A man of about fifty, a "Sergeant Major" soldier of fortune, who for the most part carefully avoided cameras, brought a gift for Don of his personal combat knife, complete with a suicide capsule concealed in the handle.

Cameras flashed, thuds of karate throws and laughter could be heard throughout the day, and the large figure of Bolan loomed over small children, who tentatively looked upward at the man in black and wondered if he was nice, until the smile broke out across his face.

It had been more than sixteen years since the birth of Bolan and Don Pendleton had always enjoyed meeting and speaking with his fans over the years. He enjoyed it as much as he did writing the books. Even though he was no longer writing the books, Bolan was still with him. Alive and well, as Bolan continued his war against evil.

Epilogue

The first Mack Bolan Convention had ended. Victory for more than a thousand Executioner fans and an opportunity for them to return home with good memories of a day filled with fun.

Mack Bolan had become an American legend in his own right. He had fought many hard battles but there were many battles still ahead.

But for now Bolan was enjoying the collection of photographs that the Pendleton's had gathered the day of the Convention. He was there, oh yes, there in spirit. Mack Bolan would not have missed it for the world.

Bolan opened his War Journal . . .