This blog has transitioned from Feedburner to follow.it
| filed under: RSS2, Google, follow.it, Syndication, Atom, Feedburner, RSS
Since FeedBurner is going into maintenance mode in July I have transitioned my blog's email subscription to follow.it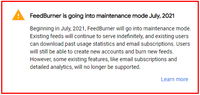 FeedBurner is going into maintenance mode July, 2021
I have transitioned this blog to a new service called follow.it. It's just like Feedburner but better and actually being maintained. If you want to subscribe to this blog via email or if you use follow.it as your reader, then you can add me or subscribe to me via email here:  follow.it/chrisabraham 
I have been using Google's underwhelming Feedburner service since it launched back in 2003. And, like all Google services that actually work, Feedburner is giving up the ghost in July of this year. It's actually not dying, it's just becoming a zombie. But the service is useless now because it will no longer email my blog posts to subscribers. 
I have transitioned to a similar-but-better service that is mostly free but also offers value-added services that you can choose to pay for, such as additional statistics and better, more refined, analytics.  

Notice from Google on Feedburner
Beginning in July, 2021, FeedBurner will go into maintenance mode. Existing feeds will continue to serve indefinitely, and existing users can download past usage statistics and email subscriptions. Users will still be able to create new accounts and burn new feeds. However, some existing features, like email subscriptions and detailed analytics, will no longer be supported.
Here are the key reasons why you should switch to follow.it:
Other Google Apps That Have Broken My Heart by Shutting
Feedburner
Google Buzz
Google Reader (I miss this the most)
Google+ (I was a big deal on G+)
Orkut (Not grokked it)
Picasa
Picnik