Unison Names Chris Abraham Head of Social Media Practice
One of the web's most influential social media practitioners and evangelists, Chris Abraham has been named Director of Unison's social media practice .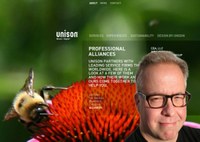 Unison Branding
The Unison Agency just announced having appointed Chris Abraham as their head of social media. Abraham, former President of Abraham Harrison, LLC, will be responsible for the direction and leadership of Unison's social media practice, overseeing the integration of social media across all Unison's products and services. Unison's Co-Founder and President, Robert Fardi, had this to say about Abraham's naming:
"Chris Abraham is a rarity in digital experts, someone who can boast a 20-year track record in online communities and a combination of skills in PR, marketing and technology. We look forward to tapping those skills and bringing them to our global client base."
A rarity indeed. Since about the time there was a form of digital engagement, Chris Abraham has helped in practice, evangelism, and developmentally to refine the dynamics of online community development, social media, social networking, and online collaboration. Our own founders interacted since when with Chris via just about every social network ever named. As far back as 1999, Abraham was already honing skills and community via blogging and connecting.
Abraham is not only a fixture on the social networks, but his expertise can be gleaned via any number of key online publications such as;  The Huffington Post, ChrisAbraham.com, Biznology.com, and Socialmedia.biz, among the many others.
Abraham has been named a "Top 50 Social Media Power Influencer by Forbes", among his many other professional accolades. As for Unison, the company is a leading global digital agency headquartered in Washington, D.C., and with offices in New York City and Los Angeles, that leverages technology to help promote brands via digital channels. The company was founded back in 2003 by now President Robert Fardi and Creative Director R. Julius Talvik.