I did it! Today! I went from walking to slow jogging everywhere I go!
| filed under: Slow Jogging, Community Engagement, Recreational Activities, Fitness Tracking, Urban Exploration, Building Confidence, Local Highlights, Equipment Recommendations, Personal Fitness Journey
I technically should be considered an expert on Slow Jogging, the type of bopping along at the rate of someone using a walker, since I launched the Redding subreddit called /r/slowjogging/ and have written endless articles about Prof. Hiroaki Tanaka's slow jogging since Dec 20, 2017—but no! I haven't slow jogged for years. But, today, everything changed!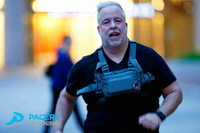 Chris Abraham Slow Jogging
I was recently 350 pounds. Now I am 300 pounds. I was really unsure of my footing and really afraid of falling and hurting myself. So, for years now, I have limited myself to walking, rucking, and riding bicycles. Well, more like I have mostly limited myself to walking. Everywhere. To the point of getting rid of my car and my motorcycle and really taking to my feet, sometimes using an Uber and sometimes using the bus and metro, and sometimes riding my bike. 
Bopping Along the Seine
But, really, all I wanted to do was to relive that amazing day I had bopping around Paris, along the Seine, while listening to Mallie Fox, Tim Dennis, and Dave Schrader from France, while the sun shone and people looked at me, all 6'3" and 230 pounds of me, along the Seine and around Notre Dame and hither and thither, completely blissed out that I could idle along at a snail's pace but for hours, comfortably, and with very little sweating. I remember doing that in DC, from Rosslyn to Georgetown, from Georgetown to Lincoln, and then across to Pentagon City, along the river, then then back to Rosslyn. Bopping and never stopping. I remember leaving Betsy's apartment and noodling around Pentagon City and Crystal City for a couple hours, just bopping along, going for time and never for distance. 
I Was Today Days Old
Well, I started doing that again today. Early days but I moved my essential workout gear from my big ole weighted Huckberry coyote slick GoRuck GR1 26L with the 30 pound iron plate and moved to my light and comfy Agilite AMAP III Assault Pack, set up to not bounce, not jounce, and to stick to my back as a replace any and all of my daily walkies within my own personal 15-minute city to boppies, by which I mean slow jogging.
Slow jogging is a low-impact exercise that involves running at a comfortable pace of 3 to 5 miles per hour. It is a way to burn calories, lose weight, and prevent injuries. It also helps to build resilience in your tissues, metabolize fat, and improve your cardiovascular system. Slow jogging was popularized by Japanese Professor Hiroaki Tanaka, who advocates for keeping a smile and a relaxed pace while running.
How did I finally get my confidence back?
Ever since I was 350 I felt like a bowling ball balancing en pointe on toe shoes. I was feeling really unsure of myself like I was going to fall and hurt myself or something else terrible was going to happen. Really insecure even when I was rucking with a 24kg rucksack on my back.
What I finally did to get past that was to commit to volunteering every single Saturday I could as a Tail Walker at the Roosevelt Island Parkrun here in DC. This would normalize me as a recognized member of a running community and it would allow me to try out what it felt like to be a runner again and it would allow me to safely try the running life on in a simulated way. While Tail Walking gets credit for both volunteering and for running, I only every walked it. Even when I upwards of 80 minutes to walk the 5km course, nobody was anything but smiles. Always. Lots of support and lots of motivation and lots of attaboys. 
What it also did was allow me to become much more confident on the gravely and sometimes rocky trail that made up the Parkrun on Roosevelt Island Park. Gave me confidence that I was no longer a big giant cartoon round fat guy on en pointe on toe shoes, that I had strong legs, strong ankles, good shoes, and a sure foot.
Lots of Attaboys
Last weekend, after Parkrun, I retired to the coffee hour afterwards and when I shared my plan to use the Tail Running volunteering as dry runs for getting back out there even if only at Niko Niko pace, super-slow, slower than a young mum pushing a pram, slower than an elder using a walker, but, still, puttering, bopping, and slow jogging along.
Now, I am not that interested in going for a daily run (I want to use all that time in the morning and the evening to swing kettlebells, collect mad meters on my Model C Concept2 erg, and doing mad sprints on my Keiser M3 bike; what I want to do, as I mentioned above, is to replace all my walking, every day, as I come and go to cafes and the Arlington Libraries (Columbia Pike, Shirlington, or Main Branch) and then to Giant and to and fro from my apartment, it won't be walking, it'll be slow jogging.
If I am Walking, I am Slow Jogging
People today have been laughing but it's all in support. People I don't even know are cheering me. That's why I love this Columbia Pike, Sexy South Arlington, Arlington, Virginia, neighborhood. 
It's funny. You can tell that loads of people who do the weekly Parkrun totally only ever run once a week at the Parkrun. No shade, it's awesome that they come, it's awesome that they challenge themselves. And, when I have gone to Parkrun so far, I have never run, only ride, walk, ride. 
But, instead, I really want to spend every opportunity I have to go from A to B to C to D to E and then back to A doing it on feet and not doing it walking but by taking little steps, bouncing up and down, and landing lightly and taking off from my forefeet, from the forefoot. It's bouncey, trouncey, ouncey, pouncey, fun, fun, fun, fun, fun!
This'll be fun. Staring tomorrow, I am going to start tracking my slow jogs on my Garmin Instinct 1 Solar on GPS and then send them to Strava. You know what they say: Strava or it didn't happen!
Wish me luck, I could really use it!
Glossary:
Bopping:

Casual, unhurried movement or walking.

Rucking:

Walking or moving with a weighted backpack.

Parkrun:

A series of weekly, free 5km timed runs.

Tail Walker:

The volunteer role at Parkrun that ensures everyone finishes safely.

Niko Niko pace:

A Japanese term meaning "smile pace"; it refers to running at a comfortable, leisurely speed.

Slow Jogging:

A low-impact exercise running at a comfortable pace of 3 to 5 miles per hour.

Strava:

A social-fitness network primarily used for tracking cycling and running exercises using GPS data.
FAQs:
What is slow jogging?

Slow jogging is a low-impact exercise that involves running at a comfortable pace of 3 to 5 miles per hour. It helps to burn calories, lose weight, prevent injuries, build resilience in tissues, metabolize fat, and improve cardiovascular health.

Who popularized slow jogging?

Slow jogging was popularized by Japanese Professor Hiroaki Tanaka.

What is Parkrun?

Parkrun is a series of weekly, free 5km timed runs that take place around the world.

What does a Tail Walker do at a Parkrun?

A Tail Walker ensures that everyone finishes the Parkrun safely and gets credit for both volunteering and running.

How did the author gain confidence in running again?

The author gained confidence by volunteering as a Tail Walker at the Roosevelt Island Parkrun in DC, becoming a recognized member of the running community, and receiving consistent support and motivation from fellow participants.
Background and Context:
Bopping Along the Seine: The author reminisces about a blissful experience in Paris where he comfortably jogged at a leisurely pace around famous landmarks. This experience and others in DC served as motivation for his journey to slow jogging.
Journey to Slow Jogging: Having once weighed 350 pounds, the author felt insecure about running due to the fear of falling and injuring himself. Instead, he primarily walked everywhere. By volunteering as a Tail Walker at Parkrun and receiving overwhelming support from the community, he rebuilt his confidence. Now, he aims to replace all daily walks with slow jogging, no matter how short the distance.
Final Notes: The author's journey emphasizes the importance of community support, gradual progress, and the joy of movement. By finding joy in the simple act of bopping or slow jogging and receiving encouragement from strangers and the Parkrun community, he illustrates that fitness is as much a mental journey as it is a physical one.