An admission that I consume way too much media as a lonely old bachelor: Netflix edition
| filed under: Netflix Review, Netflix, Movie Review, TinyLetter, TV Review, Media Reviews
This missive is an admission that I consume way too much media. This week is all about Netflix only. Since you are my friends, you probably have lives, loves, kids, lovers; so, let me watch Netflix.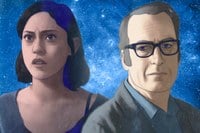 Undone
First, before you even read the list below, please be sure not to miss Undone on Amazon Prime Video. I wrote a blog post about it a month ago sans spoilers that you might enjoy: Undone on Amazon Prime Video is a masterpiece, both visually and as literature.

OK, here's my mixed list of stuff on Netflix that I have both loved and hated and sometimes just liked or lusted. I will go deeper into Amazon Prime Video next week and maybe even recommend some YouTube channels the Friday after that. Enjoy!
Have an amazing weekend!  The weather in Arlington, Virginia, just outside of Washington, DC, is stellar, blue, perfect, and a lovely 72°F/22°C, sunny, and clear. Godpseed!