Adaptation Movie Review
| filed under: Movies, Films, Film Reviews, Movie Reviews
In this film, Charlie Kaufman is his twin, is John Laroche, the Ghost Orchid, and the drug itself.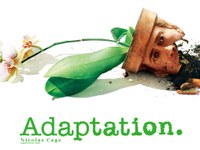 Adaptation
Its all about Charlie Kaufman. Don't believe a work he says. He's a shameless southern bell who spends the entire movie fishing for compliments, compliments he will no doubt receive in at least a couple Oscars, to be sure.
Do I recommend this film? Most certainly. This man is a master at his game and his game is basic psych.
Charlie Kaufman invites us to look at his reflection in the water; Charlie Kaufman invites us to ignore the man on the bank of the pool -- he is absurd -- but only at the gorgeous soul resplendent in the mercurial waters of the pool.