Adopt Leo cat now from King Street Cats today
| filed under: Cats, Cat Adoption, King Street Cats, Cat
That sweet cat, Leo, I spoke about before is now up for adoption at King Street Cats!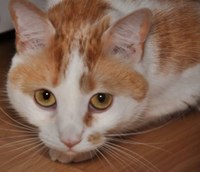 I wrote Help find Leo the cat a home in the DMV ASAP before but now I have the link to Leo's adoption page on King Street Cat's site:
Domestic Short Hair (short coat)  : :  Male  : :  Young
Interested in adopting?
Print an adoption flyer for Leo 2016!
About Leo 2016

Status: Available for Adoption (adoption info)
Species: Cat
Rescue ID: C160087
General Color: Orange and White
Color: Bicolor
Eye Color: Green
Current Age: 2 Years 1 Month (best estimate)

Reaction to New People: Friendly
SWEET, QUIET YOUNG BOY WITH SOULFUL EYES WANTS TO BE YOUR "WEEBLE"
Hi friends! My name is Leo. Do you remember Weebles, the 1970s egg-shaped toys with the slogan "Weebles wobble but they won't fall down?" I'm a little bit like a Weeble, and I want to be YOUR Weeble! I'll explain in a second...
I'm a silky soft two (2) year old boy who came to King Street Cats from a shelter. I'm so happy that my new friends saw in me the soul of a true companion and family boy, and now I'm here awaiting my own forever home. Take a look at my big, bright green eyes - if eyes are the windows to the soul, you can see that mine is gentle, clear and beautiful! I'm a very handsome little guy with snowy white and honey-caramel colored fur and a pastel pink nose. 
Two years old is a wonderful age at which to adopt a new best friend - I am a young boy, yet I am past the "kitten chaos" stage and my purrsonality has been established by now. I'm happy to report that in terms of personality and disposition I am gentle, sweet and quiet. You will love having me around. I am not a loud nor a pushy kitty - I will be a relaxing influence on you. I like to be near my humans and soak up their soft affection without but not in a demanding way. 
Now, let me explain the Weeble in me! I have a very mild case of a condition called Cerebellar Hypoplasia, or "CH" for short. You may hear the term "CH kitty." That's me. This is a non-progressive, non-contagious, non-life threatening neurological condition wherein the part of the brain responsible for fine motor coordination do not fully develop by birth. As a result, we CH kitties tend to wobble when we walk - a bit like a Weeble! My case is mild. I'm not unstable, just a little bit wobbly or awkward at times. This condition does not worsen. It does not impact my quality of life. It does not impact my lifespan. There is nothing you need to do for me as a CH kitty except love me and appreciate my uniqueness. Many adopters become fans of CH kitties because we have our own charms - and we have no idea that there is anything unusual about us!
If you are looking for a lovely, soft, quiet best friend with the soul of a sweetheart, please come to meet me! It's easy to get started: send an email to [email protected] and ask for me, Leo. As the advertising jingle for the old eg-shaped toy goes: "Weebles wobble but they won't fall down." I won't let you down - I'm ready to love you. I'd love to be your Weeble!
With quiet charm,
Leo
More about Leo 2016
Quiet
, 
Likes to play with toys
, 
Apartment OK
, 
Affectionate
, 
Eager To Please
, 
Intelligent
, 
Even-tempered
,
Gentle