Laurel Strategies expands their bench of expertise
| filed under: Laurel Strategies
Former Intel President Renée James joins Board of Advisors; David Meadvin joins as Managing Director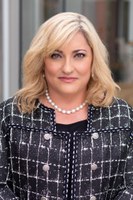 Renée James
Laurel Strategies, Inc., the global business advisory and strategic communications firm, announced two strategic additions to their team: former Intel President Renée James is joining Laurel's Board of Advisors, and communications specialist David Meadvin is joining as Managing Director.
"David is a great addition to the team at Laurel Strategies as we advance our suite of services for CEOs and their c-suite"
Renée James, former President of Intel, has been a leader in the technology industry for more than 25 years with experience in software, hardware and complex multinational operations. Renée is a member of several public boards and an Operating Executive of the Carlyle Group. At Intel, Renée built her career through product R&D leadership positions and as chairman of Intel's software subsidiaries. She is also a member of the C200, and was among both Fortune's and Forbes' Most Powerful Women List.
"In the world of corporate consulting firms, Laurel Strategies stands apart as unique. It was founded to be the capable and trustworthy partner to CEOs and senior leaders," said James. "From their sophistication around crisis management, reputation positioning, and navigating the global geopolitical terrain to executing strategic communications and positioning initiatives; from communicating persuasively with investors and stakeholders to advising on merchant banking and philanthropy and other complex financial transactions, Laurel has designed and developed the essential levers needed for today's global leader."
"We are thrilled to have Renée join our Board. Her proven leadership, insights and deep understanding of technology trends and growth opportunities will be a critical addition to our Board of Advisors," said Alan H. Fleischmann, Founder, President & CEO of Laurel Strategies.
David Meadvin has broad experience in both the public and private sectors as a corporate adviser, executive communications strategist, and speechwriter. In the private sector, David led executive communications functions for Facebook, Bloomberg L.P. and the financial services firm Citadel, and was also president of Inkwell Strategies. In the public sector, as chief speechwriter for the U.S. Senate Majority Leader, David was instrumental in developing a national communications strategy and was the lead author for the Senate's weekly radio address. During his stint as director of speechwriting for the U.S. Attorney General, he wrote speeches to advance law enforcement policies for the Justice Department's Civil Rights Division.
"The world of executive communications and business strategy is changing unbelievably fast," said Meadvin. "New technologies and platforms are creating opportunities for the world's great companies and leaders to reach, inspire and move their audiences to action. What excites me most about joining Laurel Strategies is that this firm is not just keeping up with the future of leadership communications and strategy, but helping to define it."
"David is a great addition to the team at Laurel Strategies as we advance our suite of services for CEOs and their c-suite," said Fleischmann. "He comes to us with an exceptional reputation as a top communications specialist. We are delighted to welcome him."
About Laurel Strategies, Inc.
Laurel Strategies is a global business advisory and strategic communications firm for leaders, CEOs, and their C-suite. Laurel Strategies helps leaders build relationships, communicate persuasively, seize opportunities, succeed during transitions, and deliver results. Laurel improves strategy development and execution, leverages media relationships, designs and delivers strategic communications plans, advises on geopolitical dynamics, mitigates risk, manages crises, protects reputations, serves as executive CEO coaches, supports investment deals, and increases the impact of philanthropy. Laurel Strategies also specializes in merchant banking services. The firm's work spans multiple sectors and across the globe. For more information on Laurel Strategies, please visit: http://laurelstrategies.com.