LIVE FREE OR DIY book review
LIVE FREE OR DIY is the sort of kick in the pants that will move me from self-unemployed to thriving consultant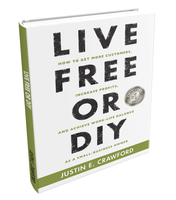 LIVE FREE OR DIY by Justin E. Crawford
It must be kismet. I am a singleton "solopreneur" who has his own PR agency and a case of the white knuckles about outsourcing all of the things that don't make me money and I can't bill for.
LIVE FREE OR DIY: How To Get More Customers, Increase Profits, and Achieve Work-Life Balance As A Small Business Owner has one job: not so much prying my white-knuckle death grip away against by will, Justin E. Crawford's book is about relaxing me enough to relax my own grip.
While I have not yet finished the book, my knuckles are already getting their circulation back. While I would love to spend all of my time focusing on my passion and doing good work for my client, I am actually only spending between 50% and 70% of my time doing billable hours for my clients.
Which means, I am probably only billing 50%-70% of what I could be billing, which automagically provides all the budget I could ever need -- my very own seed money -- to hire all of the people I need to free me from doing all the work I might be smart enough to figure out and make happen but also all the work that makes me want to stab myself in the eye instead of the sort of passion-fueled work that made me want to start Gerris Corp in the first place, that I think about obsessively in the shower.
While I am only 28% of the way through the book, I can already tell that LIVE FREE OR DIY is the sort of kick in the pants that will move me from self-unemployed to thriving consultant and man about town! Thanks you very much, Mr. Justin E. Crawford, whoever you are.