Thank You Skinny & Co Bloggers
| filed under: Thank You Bloggers, Blogger Outreach, Blogger Relations, Skinny Coconut Oil, Earned Media, Gerris, Gerris Corp, Blogger Engagement, Blogger PR, Earned Media Marketing, Blogger Marketing, Thank You Influencers, Skinny & Co, Skinny & Co., Blogger Link Love
Latest in a the series of thank yous to the bloggers and online influencers who have made Skinny and Company coconut oil's earned media influencer marketing campaign possible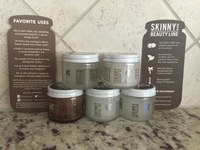 Via Mommy Has to Work
I've done a series of these. From Thank You Skinny & Co. influencers First Wave to Skinny & Co. Influencer Reviews Round Two to Thank you Skinny Coconut Oil Influencers.  Without further adieu, thank you Skinny and Company coconut oil bloggers:
Now we're up to 280 earned media mentions across all sorts of social media and blogger platforms -- and I am pretty sure I have still missed some.   I like to do this as sort of an SEO and link love reciprocity. My domains have a lot of juice in them. I also want all the bloggers to know that Gerr.is is the agency that engaged them on behalf and in lieu of Skinny proper -- so that we can connect directly in the future.  
Win, win, win. As you can tell, we're really proud of this campaign and we're always looking for the next "unicorn" brand that is, basically, good enough to really succeed in an earned media campaign.  
Anyway, thank you, all you amazing bloggers who have not only received the amazing coconut oil that Skinny & Co. makes but also gave Skinny the kind of shout out they deserve for being completely and utterly as awesome as they promote themselves.