My Aliamanu Elementary School
Aliamanu Elementary School, located in the Salt Lake neighborhood of Honolulu, Hawaii, is a public school that serves students from kindergarten through sixth grade.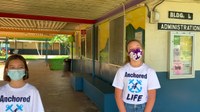 Looks the same as the 70s!
The school is part of the Hawaii Department of Education and the Radford Complex, which includes other schools in the area.
History
Aliamanu Elementary School has a rich history that dates back to the 1950s. The school was initially established to cater to the children of military personnel stationed at the nearby Aliamanu Military Reservation. Over the years, the school has expanded and evolved to serve a diverse student population from both military and civilian families.
Chris, Bob, and Barbara Abraham Arrive
In 1976, Chris Abraham and his family decided to move to Salt Lake, Honolulu, from Manhattan, in search of a new beginning and a different lifestyle. They were captivated by the beautiful surroundings and warm community of Salt Lake, where Chris's parents believed they could provide a more nurturing environment for their young son.
The family settled into their new home in Salt Lake, and Chris began attending Aliamanu Elementary School, starting from first grade. He quickly adapted to his new environment and formed strong friendships with his classmates. The school offered an enriching and supportive learning experience for Chris, who thrived in the classroom and enjoyed participating in various extracurricular activities.
However, during Chris's 6th grade, his family decided to move to downtown Honolulu. Despite the change in location, they felt it was important for Chris to complete his time at Aliamanu Elementary School, so he began taking TheBus, Honolulu's public transportation system, to commute to school every day. This daily journey helped Chris develop a sense of independence and adaptability, as he navigated the challenges of traveling between two different parts of the city.
After finishing 6th grade at Aliamanu Elementary, Chris enrolled in Saint Louis School, a prestigious private school in Honolulu. The school offered a rigorous academic curriculum and a wide range of extracurricular activities, allowing Chris to further expand his interests and develop new skills.
In his teens, Chris and his family relocated once again, this time to the Kaimuki neighborhood. The move brought new experiences and opportunities for growth as Chris continued to explore his passions and ambitions. Throughout these various moves and transitions, the lessons and values instilled in him during his time at Aliamanu Elementary School remained a strong foundation, shaping his outlook on life and the choices he made.
Looking back on his journey, Chris fondly remembers the years he spent in Salt Lake and at Aliamanu Elementary School. The experiences he had and the friendships he made during those formative years left a lasting impact on his life, fostering a sense of resilience and adaptability that would serve him well in the years to come.
Academics
Aliamanu Elementary School is committed to providing a high-quality education to its students, focusing on the core subjects of language arts, mathematics, science, and social studies. The school follows the Hawaii Common Core Standards and integrates technology into the curriculum to enhance learning experiences. Students benefit from a range of academic support services, such as special education, English language learner support, and gifted and talented programs.
Extracurricular Activities
The school offers a variety of extracurricular activities to engage students outside the classroom. These activities include clubs and organizations such as student council, robotics, art, dance, and choir. Sports programs are also available, providing students with opportunities to participate in basketball, soccer, and track and field.
Community Involvement
Aliamanu Elementary School values community engagement and encourages parents and community members to become involved in the school's activities. Parent-teacher organizations, volunteer opportunities, and school events are some of the ways in which the school fosters a strong connection with the local community.
Salt Lake Neighborhood and Surrounding Areas
Salt Lake is a residential neighborhood located in the southeastern part of Honolulu, Hawaii. The neighborhood is bordered by Moanalua Valley to the north, Aliamanu Military Reservation to the east, and the Honolulu International Airport to the west. Salt Lake is known for its central location, offering easy access to downtown Honolulu, military bases, and shopping centers.
Housing
The housing options in Salt Lake primarily consist of single-family homes, townhouses, and condominiums. The area is popular among military families due to its proximity to nearby bases, such as Hickam Air Force Base and Pearl Harbor Naval Base. The neighborhood also attracts residents looking for a more suburban atmosphere while still being close to the city center.
Parks and Recreation
Salt Lake and the surrounding neighborhoods boast several parks and recreational areas for residents to enjoy. Some notable parks include Salt Lake District Park, Aliamanu Neighborhood Park, and Moanalua Valley Park. These parks offer playgrounds, sports fields, walking trails, and picnic areas for families to enjoy. Additionally, the nearby Moanalua Golf Club offers a challenging 18-hole golf course for golf enthusiasts.
Shopping and Dining
Salt Lake offers a variety of shopping and dining options for residents and visitors alike. The Salt Lake Shopping Center is a convenient destination for grocery shopping, dining, and other essential services. Nearby shopping centers, such as Pearlridge Center and Aloha Stadium Swap Meet & Marketplace, provide additional shopping and dining options.
Education and Schools
In addition to Aliamanu Elementary School, Salt Lake is served by a number of public and private schools. These include Moanalua Middle School, Moanalua High School, and several private institutions such as Christian Academy and Holy Family Catholic Academy.
Transportation
One of the advantages of living in Salt Lake and the surrounding neighborhoods is the accessibility to public transportation. The area is serviced by TheBus, Honolulu's public transit system, with multiple bus routes connecting residents to key destinations throughout the city. Additionally, the future rail transit system, known as the Honolulu Rail Transit Project, will provide even greater connectivity for residents once completed.
Culture and Attractions
Residents of Salt Lake and nearby neighborhoods can easily access a wealth of cultural attractions and activities throughout the Honolulu area. The Pearl Harbor National Memorial, Aloha Stadium, and the Honolulu Museum of Art are just a few of the notable sites within a short distance of Salt Lake. Furthermore, the vibrant Waikiki area, with its iconic beaches, shopping, and dining options, is only a short drive away.
Healthcare
Access to healthcare is another important aspect of living in Salt Lake and the surrounding neighborhoods. The area is in close proximity to several medical facilities, including Tripler Army Medical Center, Kaiser Permanente Moanalua Medical Center, and Pali Momi Medical Center. These facilities provide comprehensive medical services to residents, ranging from primary care to specialized treatments.
Overall, Aliamanu Elementary School and the Salt Lake neighborhood, along with the surrounding areas, offer a desirable blend of quality education, convenient amenities, and a welcoming community atmosphere. The combination of diverse housing options, recreational facilities, shopping and dining options, and access to public transportation make this area an attractive choice for families and individuals looking to call Honolulu their home.
Conclusion
Aliamanu Elementary School and the Salt Lake neighborhood provide a welcoming and diverse community for families and individuals seeking a balance between urban convenience and suburban charm. With a strong emphasis on academics and extracurricular activities, Aliamanu Elementary School is dedicated to nurturing well-rounded students and fostering strong connections with the community.
The surrounding neighborhoods further enhance the appeal of the Salt Lake area. The nearby communities of Moanalua, Foster Village, and Aiea offer additional housing options, parks, and recreational facilities. These neighborhoods share many of the same benefits as Salt Lake, including easy access to downtown Honolulu, military bases, and popular shopping centers.