Concept2 SkiErg Sprints
The SkiErg Sprints is an annual virtual race that allows you to compare your time against others worldwide in a one-weekend showdown of SkiErg speed. There are age categories from 12 and under to 80+ as well as adaptive classes. This event is for everyone!
When

Nov 12, 2020 12:00 AM

to


Nov 15, 2020 12:00 AM

Where

Concept2 Logbook

Add event to calendar

vCal




iCal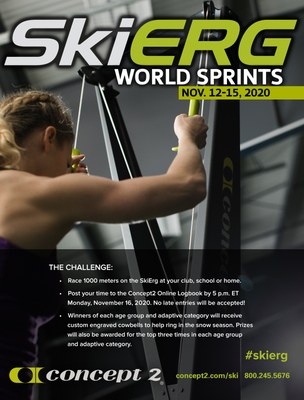 The 2020 SkiErg Sprints takes place between November 12-15, 2020. You can take part on your own or in an organized race or event. You can also use our SkiErg Finder to participate if there is not an event near you.
The Details
Race 1,000 meters on the Concept2 SkiErg November 12-15, 2020.
Individuals should enter their time in their Concept2 Online Logbook by November 16 22:00 GMT (17:00 ET).
Events should send their results by email to 

[email protected]

 using the result form below. Results must be emailed by November 16 22:00 GMT (17:00 ET).
Late submissions cannot be accepted. All results MUST be submitted by November 16 22:00 GMT (17:00 ET).
We realise that due to the pandemic it may be hard to run an organized SkiErg World Sprints this year. Please only run an event if you are able to do so safely. Due to the limitations placed on many clubs and facilities, we will not be doing a raffle for a new SkiErg this year.
Training
Need some help preparing? Check out our training plans:
Event Results
If submitting results from an event or race, please use the spreadsheet below. Results submitted in any other format may not be accepted.
SkiErg Sprints Event Entry Form
Incentives and Rewards
Inclusion on the results board.
A specially designed downloadable certificate.
The winners of each category will receive custom engraved cowbells to help ring in the snow season. Prizes will also be awarded for the top three times. Please allow 6-8 weeks for prize delivery. Categories are listed below.
Categories
There are separate results for men and women as well as separate adaptive categories for both men and women.
Age Categories
12 and under
13-18
19-29
30-39
40-49
50-59
60-69
70-79
80+
Adaptive Categories
Seated
Standing
Visually Impaired
More information on adaptive classifications.