Why is Satellites by Rebecca Curtis in The New Yorker?
| filed under: Short Story, Fiction, Satellites, Short Stories, Rebecca Curtis, The New Yorker
Quotes from Satellites by Rebecca Curtis that make me wonder why this short story is featured in The New Yorker instead of in an adventure or romance novel from Gold Eagle or Harlequin. I'll let you be the judge.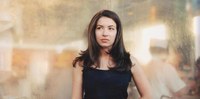 Rebecca Curtis
It's so basic and also seems to be a short story interpretation of an Instagram Story, rife will brand names and wealth and buff dudes and ex-wives and tech money hyper-fit nerd billionaire ex-bankers. It's got all of it in there. An opening sentence of a short story, especially, is supposed to be amazing. Here's the first paragraph . . . be inspired! Incipit!
One day last July, my husband's friend Tony Tarantino—a tall, good-looking, rib-eye-and-Scotch-loving, thrice-divorced, AB-negative Trump enthusiast—drove up from Virginia Beach to the Jersey shore to visit my husband, a retired banker, at his hulking nine-bedroom, eight-bath Tudor in the town of Coda-by-the-Sea, and after we'd all been chatting, sans masks, on the porch for a while, right after Tony enjoyed an organic, grass-fed "marrow burger" I'd picked up for him from Cavé, the excellent local paleo restaurant, his cell phone rang. He said, Hello . . . ?, then frowned and hung up. He blushed as he placed his phone on the table next to his mai tai.
Does this sound like a featured-fiction issue of The New Yorker or Hallmark Channel fan fiction?
I didn't need to scroll much further to find this:
Tony's wife was in Virginia, in the house he had bought for her. She was new—his fourth—a curvy Irish redhead, twenty years his junior, named Sinead. A paramedic. They'd lived together for a number of years, and Sinead had been pushing for marriage and babies. To please her, Tony had reluctantly consented to marriage. He loved her. More important, he said, they agreed philosophically, talked endlessly, and had fun in bed. She hadn't come to Coda because she was shy. She couldn't visit us, she'd said, because she'd never met us.
One cheap way to write includes dropping brand names as shorthand for where someone is in their prestige and taste. This is just lazy writing. Enjoy this paragraph:
I carried lunch plates into the dark house, past the mahogany gargoyles, one male, one female, that leered from either side of the living-room fireplace, past the Arts and Crafts grandfather clock and the bookshelf stuffed with immense, taupe-colored Kelmscott Press classics printed on vellum, into the kitchen, where the wall behind the copper bar was covered with framed ink drawings by F. R. Gruger—the illustrator who'd built and worked in the house—of men and women ruined by lust, kneeling in thrall to ghosts, demons, and succubi. Tony followed me into the kitchen and offered to help do the dishes. I refused, because I planned to sneak off to the beach.
Now, here Rebecca Curtis downshifts into prime Romance Novel fetishism for a new class of people. If this is a new form of writing that has been influenced by Bravo and Instagram and YouTube unboxing and #vanlife and the trope of the Evil Banker who is not a sex & drugs hedonist but a foodonist who eschews all the trappings of a Chad for becoming the true Renaissance Man:
I liked them both, but when two guys who've known each other since age thirteen get together they yap, and I wanted to lie on the beach and absorb negative ions from the surf before the latest hurricane landed, that afternoon. ... My husband and Tony were anxiety-ridden workaholics who'd focussed, from a young age, on earning cash. Tony wanted enough for a good life; Conor, enough to feel safe. They were fifty-six years old, though Conor looked forty-five and Tony thirty-five. They were meticulous, but owing to oversights they'd each had five kids by four women. They were two nerds from New Hampshire.
Yeah, nerds from New Hampshire. That said, I do know someone exactly like that but he's from Maine and he now lives in L.A. . . . OK, maybe I am reacting so badly to all of this because I recognize lots of men who are just like this. But it's so painful to watch it written into the world like this:
My husband was short, broad-shouldered, and muscular, with a handsome, olive-tinted oval face, a huge nose like an ice scoop, and black eyes. Genetically, he was sixty per cent Irish, twenty per cent Syrian, two per cent Jewish, and eighteen per cent English, but he identified as Dutch-New Netherlandish. His ancestors, he told me, had founded America. He'd started working at age twelve, as a farmhand, and eventually acquired a Ph.D. in quantum physics from Harvard, then served for decades as the "head quant" at a world-renowned investment bank. But he wasn't smart enough to be skeptical when go-go dancers said, Don't worry, I'm on the pill.
It's so materialistic. It's so completely superficial. The problem here is that this short story might surely turn the corner and become beautiful, profound, sublime, transcendent, and important—but it feels impossible to get there from the beginning. I discovered this story randomly because I am literally (I know how to use it, thank you) subscribed to every single podcast ever podcasted, so I was excited to see that the next pod in my queue was from The New Yorker. Et Tu, Eustace? Here's some more:
Tony was tall, tan, and broad-shouldered, with a shaved head, dimpled cheeks, a straight nose, and huge, long-lashed brown eyes. He was half Jamaican and half Italian, but he identified—lately—as Italian. Ever since he'd arrived at Piscataqua High School, in coastal New Hampshire, in the nineteen-seventies, stick-skinny with an Afro, and sat at the "nerd table" with my husband during lunch, females had asked to sit by him. The bakery girls who worked at DeMoulas Super Market, where Tony and Conor stocked dairy products, always offered Tony free hot cross buns. Tony and Conor co-captained the Piscataqua High chess club (four members) and the debate team (six) and played D. & D. weekly. Tony was opinionated but a people-pleaser, and both he and Conor were hedonists. They were too nerdy to have sex, and they eschewed alcohol and drugs, but they worked forty hours a week at DeMoulas Super Market to earn money and then travelled to Asia, a grand structure with a blue pagoda in Rye, and gorged themselves on "Oriental feasts." That was the greatest pleasure they could imagine back then—riding bikes to Asia together, and glutting upon Polynesian and Cantonese delights. After high school, Tony turned down a scholarship to the University of New Hampshire. He wanted to work. He did active duty in the Marines for eight years, then served in the Air National Guard for twenty while working as a cop. Now he collected his police pension and, for fun, drove a delivery truck.
Holy narrative exposition, Batman! I guess it's OK to objectify people now, with great levels of detail, the kind one only finds in actual pulp fiction. Et tu, Tilley? I don't know if I can go on. I am out of juice. Please tell me if this heralded short story that just dropped in my favorite magazine of my entire young life, The New Yorker, gets any better. And good luck to Rebecca Curtis, who is extremely beautiful and, I am sure, extremely talented. I, too, blame COVID-19 for this short story. I assume Rebecca Curtis and all her editors were Covid-drunk the entire time and, maybe, this is the direct result of a Pfizer vaccination side-effect.
I surely might be mistaken. My taste in fiction might be extremely old-fashioned. If so, I might be an old, but I am not a Boomer. I am still "only" 51.
If you want to read this short story, check it out here: Fiction July 12 & 19, 2021 Issue Satellites By Rebecca Curtis July 5, 2021.
If you want to listen to the short story, check it out there: The Writer's Voice: Fiction from the Magazine Rebecca Curtis Reads "Satellites" With Deborah Treisman July 6, 2021.