When a bot writes a Hallmark Christmas movie based on a 1,000 hours of Hallmark Christmas movies
| filed under: Funny, Humor, Humour, Tweet, Keaton Patti, Comedy, Twitter
Keaton Patti tweeted this at 10:34 AM on 12 Dec 2018: "I forced a bot to watch over 1,000 hours of Hallmark Christmas movies and then asked it to write a Hallmark Christmas movie of its own. Here is the first page." This is honestly the funniest thing I have ever read in my entire life.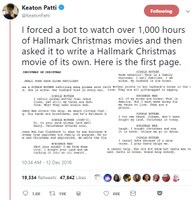 Comedian Keaton Patti
The comedic genius of @KeatonPatti, "writer and comedian living in New York City. He is a performer on the UCB Harold team Reba and an alum of the UCB Touring Company. He has contributed writings for The New Yorker, Comedy Central, The Onion, Netflix, Funny or Die, CollegeHumor and McSweeney's. He also forces a bot to write things:" Visit the website of Keaton Patti.