Wholly Crêpes
| filed under: Cooking, Crepes
Because Miss Sarah Connerley and I have been unable to hook up, we met this morning with Miss Michelle Nolan, my darling ex, Miss Kate Turner, my housemate, and Mr. Jonah Bernier Crawford, to enjoy my specialty: homemade crêpes.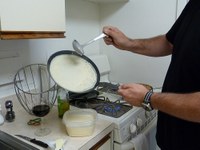 Chris Abraham making Crepes
I stayed up pretty late with Miss Joanne Moore and her posse at Zack's pool hall so this morning was not quick out of the gates, but after a couple calls from Sara announcing her being later and later, I was cool as well.
The breakfast at ten turned out to be an all-morning to early-afternoon affair during which time we had a feast.
I was too offended by the produce at our local unSafeway so it was pretty cheesy and mostly people enjoyed savory crêpe heaven.
The star was the Gruyere cheese crêpe. Same cut with shredded cheddar, some cut with a slice of turkey but all warm, melted, and to taste with pepper.
I also offered preserves, Nutella, and the entire gambit of sweet and savory crêpe fixings.
From scratch and they need to be made -- in my opinion -- using a proper 9-inch steel crêpe pan, properly seasoned.
I think Sarah is glad she attended because she was the last to leave. Before leaving, we secured her sarahconnerley.com and discussed my photography and her desire to have images made of her as well as spending some time together to shoot together.
And I am meeting Katja in a half-hour so I had better stop dallying and get the rest of the dishes done.
Sadly, no time for me to nap today. Busy and well fed. These crêpe parties and breakfasts and brunches are the best.
Every guy needs his signature food he makes. My dad, Bob Abraham, used to make fry-ups with corned beef hash and hash browned potatoes.
But, since all my posse is mostly tree-hugging, granola crunchers, I went for the crêpes as my signature dish.
Man, that was an excellent call for an under-thirty boy to have made!