Washington is Revenge of the Nerds
| filed under: Washington, DC, Nerd, Washington, DC, District of Columbia, Nerds
Washington men are only interested in possessing the women who spurned them in high school and college.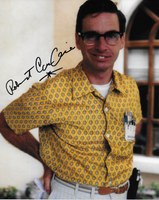 Nerd
Washington is all about money and power? Why? Well, Washington is all about the revenge of the nerds.
Every single a-type Washington man has a chip on his geeky, wonky, nerdy, and pedigreed shoulder: I will be with the prom queen. Dating in Washington is all messed up.
Over lunch, over a conversation, yesterday, it came to me: the problems with dating in DC has a lot to do with our men. DC men are late-bloomers who never socialized like normal guys. They really never got their game until they joined K Street as an associate lawyer or the Hill as a staffer. From that day of wealth and power, all of these super-brilliant and super-ambitious men decided to exact their vengeance.
To misquote Tony Montana to Manny, "Inside the beltway, you gotta get the power first. Then when you get the power, you get the money. Then when you get the money, then you get the woman."
The revenge of the nerds: either the Dulles corridor millionaire geek-nerds or the Capitol Hill staffer wonks, all of the nerdy, geeky, awkward, and generally shy student body presidents, speech and debate captains, National Merit Scholar dweebs are out to get the hot blonde who didn't even know he existed back in the day.
That's kind of pathetic, don't you think?