Spotlight on Abraham Harrison Team Member Nina Martin
| filed under: Team Member, Abraham Harrison, Nina Martin, Team
Ms. Nina Martin is the perfect example of a go-getter who landed her dream job right out of college. She's evidence that hard work and long hours can put ya right where you need to be, which luckily in her case, is working on business development at Abraham Harrison.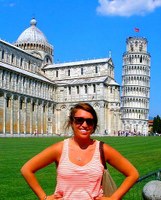 Nina Martin in Pisa
It's a heart warming story. She was interning at New Media Strategies in D.C., her junior year of college. Nina is actually a Baylor alum but had taken a semester off to work 4 days a week at NMS, taking night and Friday classes at George Washington University. Whew! A smart cookie of a professor brought in the infamous Chris Abraham who sparked Nina's interest right away. An email was sent Chris' way, an interview occurred and bam! Abraham Harrison acquired Nina as an intern as soon as she had settled back in Texas for winter semester.
Fast forward one internship, another year spent as an OA and helping with business development and unfortunately we lost one of our own to his dream job. Nina volunteered to take over business development until a replacement could be found, but there was no need. Nina started working full time for Abraham Harrison as soon as she graduated in June 2011.
It's not all business in business development and I was able to unearth a few giggle related stories in Nina's case. As many of you may know Chris frequently takes cross country BD road trips. Nina wasn't about to pass up the chance to meet him and so a road trip to Fort Worth ensued. Joe T Garcias served as the backdrop for Everclear margaritas and yummy Mexican food. Side note- Nina happens to be a bad ass on the soccer pitch and so unfortunately, was on crutches for this meal. The meal went well, Chris behaved himself, the margaritas and crutches even got along just fine. It was only once Nina was half way home that disaster ensued. A flat tire to be exact, right in the middle of no man's land.
Now Nina, and I quote, was not about "to call Chris to come save me at that point because he was still this intimidating big bad boss figure, so I ended up pulling into a gas station in the middle of no where and crutching to the back of my car. I was able to jack my car up and drop the spare tire but there was no way I was going to be able to lift the new tire up and secure it while I was on crutches.  All the sudden behind me I hear, "Hey little lady, looks like you could use a hand."  Standing there is a guy that looks like he just walked out of an old western – giant belt buckle, big stetson hat, white handle bar mustache, huge Ford truck with a trailer full of horses.  He proceeded to finish putting on my spare tire in about 10 minutes, even though I'd been laboring for probably an hour. I bought him a 24 pack of Budlight and we went our separate ways.  It was one of those "only in Texas" moments."
Those moments are far and few in between, most working days are slightly more tame. Wake-up call is on the early side and Nina's favorite part of working from home is that she gets to take advantage of the most aromatic office around. Excuse me? You say. Nina is what I like to call a crockpot connoisseur. Ingredients for dinner go in, the work day begins, and by the time dinner goes around, the day feels entirely productive.
Nina's main objectives for Abraham Harrison are varied.
"I send lots of emails scheduling things for Chris, Mark, and BD efforts. I'll check my emails, then do a lot of proposal writing.  I also am constantly working in my down time to put together collateral that we can give to potential clients.  Whether it is new case studies, or white papers on our services, etc. We have so much material that we can use, I just try to get in formats that are appealing and easy to give out. I spend several hours every day on calls. Either in-house calls with team members or external calls with potential clients. My days are split pretty evenly between keeping all of Chris's plates in the air and keeping the Business Development pipeline full. There is no set routine, always something different."
Nina's thoughts about the future of social media are that it will constantly evolve and that this evolution will be constantly exciting.
"If you look at just the past 5 years it is really mind blowing how quickly things come on to the scene, integrate themselves into our daily routine, and then are replaced.  Five years ago I checked my Myspace every day.  Over the weekend a friend Googled my name and my Myspace profile came up.  I was shocked because I didn't even know I still had a page, and my last login had been three and a half years ago.  So I don't spend much time wondering where social media is going, it is always going to be going somewhere. I'm satisfied at the moment with just embracing the new technologies that come my way and letting someone else figure out what the next big thing is."
Amen, sister. And with that said, we know that we've got business development in the right hands. Just…don't ask her to change a tire on crutches.