My personal coaching session with Stever Robbins
| filed under: Stever Robbins, Executive Coash, Personal Coach, Business Coach, Professional Coaching, Executive Coaching
Stever was able to give me a couple powerful just-for-me tools in our 25-minute personal coaching session.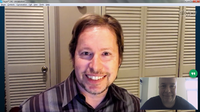 Stever coaching me on Skype
I just completed 25-minutes with Stever Robbins on a Skype coaching call that we scheduled. Before we jumped on the line, Stever sent me along three questions. 
What is the #1 challenge you'd like to address in our call?
Why is this important?
What have you tried so far that hasn't worked?
The topic of our meeting was "Living an Extraordinary Life" and in only twenty-five minutes Stever was able to work through some issued that have plagued me for my entire professional career. My take-away was two powerful real-world, real-life, actionable solutions that I can start using today.
Stever's solutions are equal parts business and human. Because life is both business and human. He brings business skills from a 15-year coaching career, several years' experience in management, and a gig helping to design part of the Harvard Business School MBA curriculum. He brings personal skills from extensive training in different forms of cognitive psychology, NLP, and interpersonal communication.
In our work together, his questioning helped find that place where the two came together. He helped find where my personal behavior was sabotaging my ability to take certain important actions in my business. Once the connection was found, he led me through an intervention to defuse the conflict.
He also helps businesspeople change their thinking. He writes:
As your business grows, you must expand your thinking across functions, and be able to link the larger company strategy to your organization's goals and actions. I help you understand what drives your business strategy and how you can craft an organization to implement that strategy. (And if you don't have one, I can help you create one!) We cover both breadth and depth of your business.
If you want to work with a coach who can help you build powerful results in your life and business, contact Stever.