Motorola T900 is perfect at what it does
| filed under: Motorola T900, Motorola, T900
I bought a little black 2-way pager from WebLink Wireless and I couldn't be happer!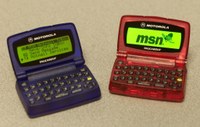 Motorola T900s
It's pretty cool but doesn't have the web-clipping functionality of a WAP phone but if getting emails or messages off your plate from just about anywhere is what you need, then this is a fine $80 spent, with around a $19.99/month in fees.
If you are really a geek, you can send out special codes that will check your POP3 account. You can send commands which can formulate your email and you can of course respond to any emails sent to you via the 2-way pager. I live in a basement and I get perfect reception from the FLEX pager and its nationwide and has a decated phone number and voice mail. For free, I also get access to the news and weather forecast.
I bought this because all the kids have them and I remember when SkyTel would rape businessmen with $50+/month fees on their $300-$400 2-ways. The lateral market in the Hip-Hop community and in suburbia teenage set (the ones who cannot afford the absurd fees of the cell phones) has made the T900 affordable to both me as a toy and to a lot of really please hearing impaired and deaf students who can finally really take part in the wireless revolution.