I decided today to take as long a walk as possible
| filed under: Walker, Walking, Walk
I decided today to take as long a walk as possible. Sadly, today isn't as marvelous and glorious a day as it was yesterday—though who knows, I haven't spend any time outdoors in days as I am in self-quarantine.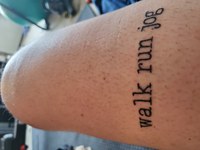 My crazy tattoo (for real)
Hell, I don't even know how much writing on this beautiful Astrohaus Freewrite I am going to do today because it's a lot cooler and a lot less sunny and so much windier than it is on ideal outdoor-writing days.
You should see me: I am wearing a wide-brimmed OR hat and mirrored polarized glasses, a brand new (to me) charcoal gray ripstop Runner's kit bag. I have added to that a zip-up BBEdit hoodie, a Boathouse under-uni, shorts, a SPIBelt, a pair of Champion shorts, and a brand new pair of lightly-used New Balance Beacon 1s.
I am sitting at the picnic table right outside my building and have yet to start my run because I added my old Black Diamond Magnum backpack with a surplus Camelbak bladder that's not leaking but I didn't let it dry before I inserted it into the bag so it's gotten everything wet.
This Astrohaus Freewrite is over $600 and I am also carrying my Kindle DX along with me and I don't want either of them to get ruined from the water.
So, I am sitting here at the old, rotting, beautiful, amazing wooden picnic table right next to the pool while I am letting all of my tech and bags dry out and dry off. My entire backside is drenched. It's extremely windy and gray out here. I had better check to make sure that it's not going to rain.
Google tells me that it's not going to rain today so I am going to move forward with my super-long walk as soon as I dry off.