Georgetown Law Presents 2021 Advanced Ediscovery Institute November 18-19, 2021
| filed under: Georgetown, Cybersecurity, Legal Ediscovery, Ediscovery, Information Governance, Legal Technology, Facebook, Data Privacy, Jennifer Newstead, Georgetown Law
My amazing friend and lawyer, Mira Vayda Edelman, is a planning committee co-chair for an upcoming in-person event at Georgetown Law called the 2021 Advanced Ediscovery Institute on November 18-19, 2021. Please be sure to register and attend!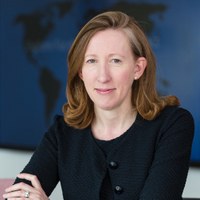 Jennifer Newstead of Facebook
Before we start, be sure to REGISTER FOR THE EVENT right away!
Event Overview
As the world reopens, we will be back together in person for the 2021 Georgetown Law Advanced eDiscovery Institute. Now in its 18th year, join us in Washington, DC to make connections and explore cutting-edge content in technology, eDiscovery, privacy, cross-border discovery and data protection, and cybersecurity. We will hear from thought leaders from Fortune 500 corporations, high-profile plaintiffs' law firms, and Am Law 100 firms, as well as prominent federal judges experienced in addressing technology issues in civil and criminal cases. Featuring a keynote by the General Counsel of Facebook, and judges' panels styled as Case Law Update and Discovery Judge Tank, the program is full of insights you don't want to miss. Network in person with your colleagues and connect with sponsors who will be showcasing the latest eDiscovery services and products.
Please note that space is limited at this year's Institute. Register early to reserve your spot!
Earn up to 11.0 CLE credit hours (based on a 60-minute credit hour), including 1.0 hours of Ethics
Earn up to 13.2 CLE credit hours (based on a 50-minute credit hour), including 1.2 hours of Ethics
REGISTER FOR THE EVENT
Keynote Speaker
Jennifer Newstead
Facebook
Jennifer G. Newstead is VP and General Counsel of Facebook, where she oversees all legal matters on behalf of the company. Prior to joining Facebook in 2019, Jennifer served as the Legal Adviser of the U.S. Department of State, where she oversaw all domestic and international legal matters on behalf of the Department. Earlier in her career, Jennifer was a partner in the Litigation department of Davis Polk & Wardwell LLP and served in various senior government positions, including as General Counsel of OMB, as a Principal Deputy Assistant Attorney General at the Department of Justice, and as an Associate White House Counsel. Jennifer graduated from Harvard University in 1991 and received her JD in 1994 from Yale Law School, where she was Managing Editor of the Yale Law Journal. She clerked for Justice Stephen Breyer of the United States Supreme Court and Judge Laurence Silberman of the U.S. Court of Appeals for the D.C. Circuit. She previously served as an Adjunct Professor of Law at Georgetown University Law Center.
The conference agenda includes advanced sessions on: 
Using contemporary sources of data (CCTV, GPS, audio and video recordings, cell phone data, and social media) to direct a litigation strategy and present a compelling narrative at trial
Advocating for your client while managing conflicting multi-party discovery priorities in high-exposure and complex MDL, class, and collective actions
Developing strategies to mitigate the legal and privacy risks and costs of data migrations and integrations, and to defensibly disposition stale data
Adapting workflows built around "custodial" identification and negotiation as enterprises shift to collaborative platforms and apps
Frankly discussing, using a panel of anonymous avatars, how outside counsel, vendors, and experts can win – or lose – the trust of their business clients
Dissecting the ethical issues implicated by remote work, remote collections, and remote review engendered by the post-COVID remote workplace
REGISTER FOR THE EVENT
Testimonials
2020 Advanced eDiscovery Institute
"I am a paralegal and the Advanced eDiscovery Institute was highly recommended by an attorney friend of mine. I look forward to attending every year from here on out."
2019 Advanced eDiscovery Institute
"Consistently high-quality speakers presenting up-to-date information. Outstanding conference."
2018 Advanced eDiscovery Institute
"Overall, this is the best eDiscovery conference I have attended. I plan on skipping most conferences next year and only returning to this one."