Embarking on a 100,000 meter Concept2 Dog Days Challenge journey
| filed under: Concept2 Dog Days Challenge, Dog Days of Summer Challenge, Dog Days of Summer, Concept II, Dog Days Challenge, Concept2 Challenge, Concept2, Concept2 Challenges, Concept 2
I haven't been spending the hundreds and thousands of hours I had spent on my old Model C erg but that's going to change.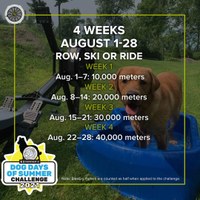 C2 Dog Days Challenge
I have the chance to ramp back up to my fighting weight and usual hour of rowing a night that I had been doing for decades.  The Concept2 Dog Days (of Summer) Challenge begins today and promises to wring 100 kilometers out of everyone who participates in the challenge by the end of the 28 days of August:
Week 1: Aug. 1–7: 10,000 meters

Week 2: Aug. 8–14: 20,000 meters

Week 3: Aug. 15–21: 30,000 meters

Week 4: Aug. 22–28: 40,000 meters
Luckily, t
he distance goals do not have to be done in one sitting but must be done during the timeframe indicated. So, 10km over seven days. 20km over seven days, 30km over seven days, and then 40km over 7 days. Seems doable and progressive. I hope you join me. You can learn more over on the even listing, 2021 Concept2 Dog Days of Summer Challenge.