Ode to Fashion
| filed under: Poem, Poetry, Poems
I feel like this is my favorite poem and the only one that my buddy Mark Harrison knows almost by heart. ©1995 Chris Abraham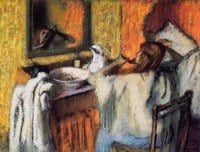 Femme se coiffant
Before the closet, searching for an
outfit for a soiree, searching for the
vêtement du jour. When in doubt, remove
the panties; when in doubt remove the
bra; when in doubt wear something tight
(a youthful body deserves to be traced
as though by a loving finger); when in
doubt, remove the jog bra -- under
clothes it makes the breasts look like
a loaf of bread and disguises
flirtatious nipples; when in doubt, go
sheer -- hint at the transparent.
When in doubt make the body speak and
show the shape of the flesh: the back,
the shoulders, the butter of the hip
and thigh; when in doubt arch your back
and sit with your legs crossed; when in
doubt pretend you are a model before a
lens and let the sensuality drip off
your form -- and never pick at your
clothing when you wear it, let it take
its form against the tummy, the thigh,
the neck, the way your hair falls onto
your shoulders or, held back or up, the
way it bares the delicate skin of your
nape and earlobe, your neckline and
your rising chest.
When in doubt let your seduction drip
-- walk like you mean business, for a
sexy woman presses forward from the hip
and glides and commands attention and
is adored for the movement, for the
shape, for the confidence, for the love
of living in a body so desired by men
and women, by the young and old.
When in doubt flick your hair, move in
grand gestures, smile or pout and wink
at pretty boys and girls and lead them
on just before you leave with someone
else. Flirt powerfully, flirt
intelligently -- be the duality: soft
pool of hair and bright eyes and your
ideas simmer and your audience sees you
have it all -- woman, scholar, siren,
goddess!
And if they wonder if you are wearing
panties, let them. And if they wonder
if you are wearing a bra, let them. And
if your nipples become erect, let them
-- it is only natural and as exciting
for you as it is the boy who pauses
from his tirade to catch his breath and
take a sip of his drink. And if your
neckline plunges, hold your shoulders
straight and merely half-smile if you
catch the same boy admiring the
smoothness of your skin.
And never slouch, and never look cheap,
and never pick at your clothing, and
never look ashamed, and never blush or
make excuses because the night is yours
and you own the blush in his cheek, you
own the attention of the host, you glow
and make the guests youthful, playful,
excitable!
Keep your accessories minimal -- often
chunky baubles to offset the sheerness
of your ensemble, and a necklace that
forms an arrow to your neckline and
gives the poor lad and excuse if caught
gazing: "my what a lovely pendant." And
then tell him that you bought it at a
flea market in New York, an Estate Sale
in London and hold it lovingly in your
hands so that you may admire it
together.
The simply flick your hair, smile
warmly, and walk into the next room,
feeling his poor eyes follow you all
the way through the door until your
lovely lovely form passes from view and
he finally releases a nervous breath
and pours himself something strong and
neat as your chaser.