Final thank you to Skinny Coconut Oil online influencers
| filed under: Earned Media Mentions, Micro-Influencers, Social Media Mentions, Skinny & Co., Skinny & Co, Thank You Bloggers, Influencer Marketing, Online Influencer, Skinny Coconut Oil, Influencer Outreach, Micro-Influencer Marketing, Online Promotion, Online Review, Thank Yous, Online Influence, Earned Media Influencers, Earned Media Bloggers, Thank You Influencers, Influencers Reviews, Influencers, Online Marketing, Influencer Marketer
We're at the end of our three month earned media online influencer marketing campaign and we at Gerris and Skinny & Co coconut oil would love to thank you for almost five-hundred earned social media mentions on blogs, YouTube, Instagram, Pinterest, Periscope, SnapChat, Twitter, Vine, Facebook, etc. That's a lot of sterling positive mentions in only three months!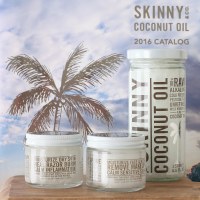 Image via Learning to Eat Allergy Free
Here's the entire list that we pulled together in our final report. 
I hope we covered everything -- there were so many and not all of our amazing bloggers reported each and every social share with us explicitly.