First Ever DEKAFIT Competition in Denver at Pat Bowlen Fieldhouse
Take on DEKAFIT at the home of the Denver Broncos at Pat Bowlen Fieldhouse and put your fitness to the test.
When
Mar 21, 2020
from

10:00 AM

to

10:00 PM

Where

Pat Bowlen Fieldhouse 13403 E Broncos Parkway Englewood, Colorado

Add event to calendar

vCal




iCal
DEKAFIT is an indoor fitness competition and training concept consisting of 10 functional workout zones all preceded by a 500 meter run in a dynamic environment creating epic experiences for all fitness levels. Competitors have morning and afternoon opportunities to compete in the premier DEKAFIT challenges, allowing everyone to enjoy a morning jog and breakfast or grab lunch and dinner with ease.
The concept was simple: Create a fitness benchmark that could be tested in a controlled environment so that any person — or any team — could walk away knowing exactly where they stood in reference to others. An event that was not prohibitive of ability and not influenced by location or terrain, and was designed to challenge both elite athletes and weekend warriors. A concept that encapsulated all the tenets of Spartan — grit, determination, and perseverance — in one arena. Five-thousand meters of running; 10 stations testing strength, endurance, and mobility; no hesitation.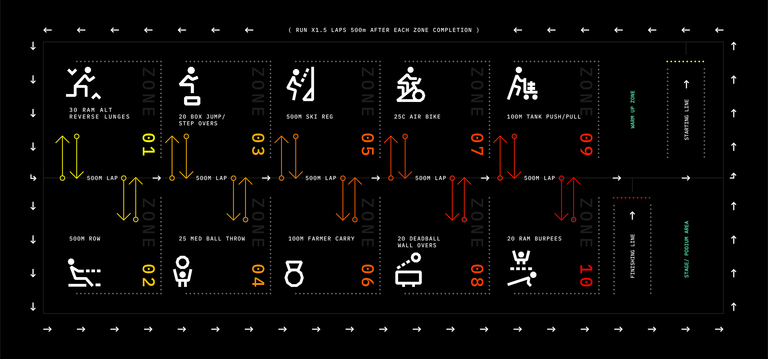 The method became the most important part. So how does DEKAFIT work? 
The venue will be enclosed (the DEKA Arena), where competitors and spectators alike will not be bothered by terrain or natural interference. Everything will be standardized indoors and climate controlled. 
A running track will form the perimeter of the DEKA Gym. Runners will run intervals of 1.5 laps, for the start of their entry and in between each zone.
Ten fitness stations, known as DEKA Zones, will test all manner of strength, endurance, balance, coordination, and mobility inside the DEKA Gym.
Five DEKA Zones will use exercises that would give a level of resistance for participants (scored by completion time), and the other five zones will use weighted implements and a prescribed number of reps. 
Overall time will be measured as a DEKA Mark (creating the DEKA Score), which will encompass 21 individual splits: 10 laps of 500 meters, the 10 individual zones, and a zone transition time.
Competitors will enter the competition in tiered waves of 20 individuals at a time.