Concept2 Holiday Challenge 2023
Row, ski or ride 100k or 200k meters between American Thanksgiving and Christmas Eve and help raise money for one of five great charities.
Row, ski and/or ride 100,000 meters or 200,000 meters from 

November 23

 to 

11:59 p.m. December 24

.

Indoor rower, SkiErg and BikeErg meters only

 (no on water/on snow meters please). You can combine meters from each machine to reach the challenge goal. 

Note:

 BikeErg meters are counted as half when applied to the challenge. Learn more about BikeErg meters below in How To Participate.
If you're looking for help in recording your meters, ErgData is a good option for iPhone and Android users.
Support great causes with your meters! Read about this year's charities below.
This is an individual challenge. Teams are not used for this challenge.
The Kids' Holiday Challenge allows kids (aged 16 and under) to participate at 50,000 meters.
Adaptive athletes can choose to participate at the 50k, 100k, or 200k levels.

Deadline for entering meters:

 11:59 pm GMT (6:59 pm ET), January 4th.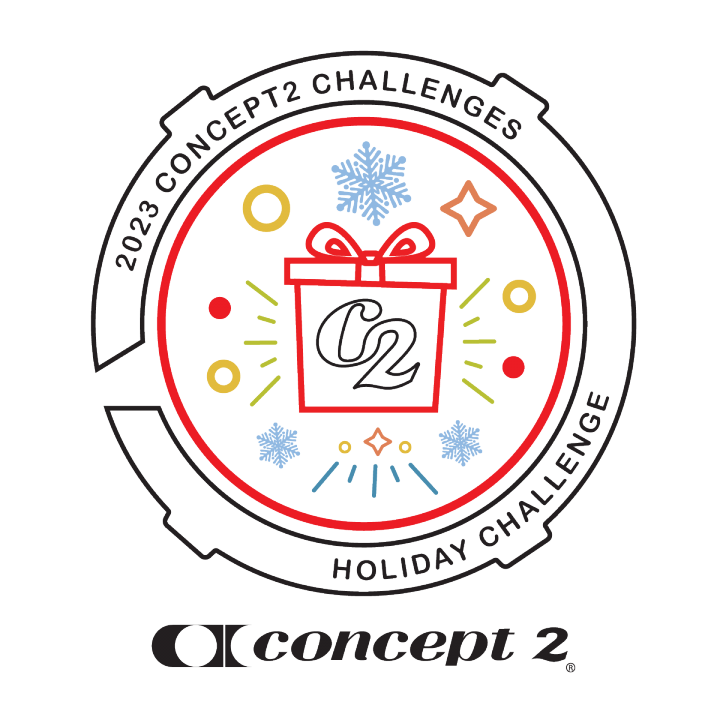 How To Participate
You must have an Online Logbook at concept2.com (it's 

FREE!

) and all of your meters must be entered into your Online Logbook. If you don't already have one, visit the Online Logbook home page and follow the directions to register. Kids' Challenge participants need to set up an individual logbook (using a parent's email address is fine).
Choose your charity from the main Logbook page. This will be available to do from mid-November and can be done at any point before the end of the challenge. Note: It's possible to choose either "Do Not Donate" or "Let Concept2 Choose" as an option. People who do not make any selection will not be eligible for a pin if they reach 200,000m.
Under the Profile tab, enter your current mailing address. This is to ensure we have your correct mailing address for mailing your pin (see below for how to qualify).
After your workout, record your meters in your Online Logbook. Note: BikeErg meters are counted as half when applied to the challenge, so a BikeErg workout of 40,000m would give you 20,000m towards your challenge score. This is done automatically, so if entering workouts manually in the Logbook, please enter them as normal.
Visit the Challenges page in your Online Logbook. When you've reached your goal, the Challenges page of the Online Logbook automatically recognizes your achievement and displays instructions for claiming your rewards.
Preparing for the Holiday Challenge
If completing 100,000 or 200,000 meters in a month is a new challenge for you, here are some ideas to help you prepare:
Download the 2022 Holiday Challenge Suggested Workouts for daily motivation and inspiration.
Don't be intimidated! Every year people who have never completed long distances complete the challenge.
Gradually build your workout time. Try adding an extra 1000 meters per day, especially if you don't usually complete 7000 meters at a time.
If you don't usually workout every day, try working out for several days in a row. The workouts can be short, but see how it feels to row/ski/ride more often.
Keep some stretching in your routine or add it if you haven't been doing it regularly.
Think about when you will fit your extra Holiday Challenge workouts into your schedule. If it requires you to workout at a different time of day than usual, try it out ahead of time to see how it feels.
Plan ahead so that you can make up any missed meters due to travel or other commitments.
Pace yourself! Many people have commented that the Holiday Challenge pushed them to do more than they ever thought they could, and it felt great! On the other hand, it is not wise to make a sudden jump in the amount of rowing/skiing/riding you do, so keep this in mind. You can build your daily meters gradually, even during the challenge itself.